CWops# 2126, from Carvoeiro LGA , Algarve , Portugal.
---->
View on Google maps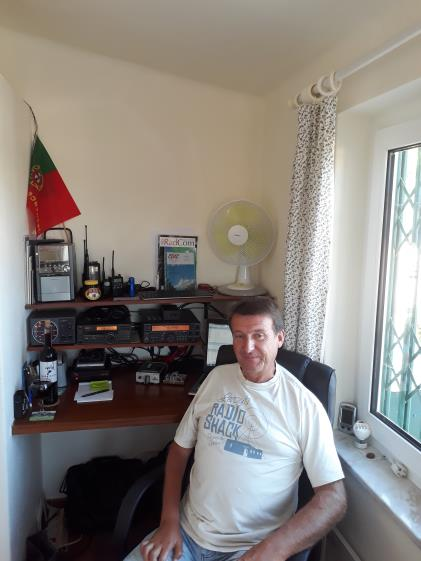 My interest in radio started at an early age, while I was still at school.  I was always fascinated by some of the strange and mysterious signals that I found when tuning around the different bands, especially the shortwave bands; strange buzzing noises, number stations in different languages and many other signals that intrigued me.  My first encounter with Morse code was the local NDB, which was just at the bottom end of the Medium Wave broadcast band on 545 kHz.  I had no idea what this signal was at the time, but I was able to work out that it was sending 'LIC'.  Whenever we went on a long car journey I would always tune in to this signal on the car radio before setting off to see how far away we could receive it, much to the annoyance of everyone else in the car, who wanted to listen to 'something normal'!
This was the 1970's and Radio Luxembourg was a very popular station at the time in the UK, broadcasting on Medium Wave.  I wasn't too interested in the content, but more the reason why I could hear this and other stations from continental Europe at night and not during the day.  Did they not broadcast during the day, or was there some other explanation?  I needed answers to this and many other questions, so started buying Shortwave Magazine and Practical Wireless from the local newsagent and ordered books from the RSGB.  I then got my first ever communications receiver, a Yaesu FRG-7, which opened up a whole new world, the amateur bands!
I got to meet a local Radio Amateur who lived next door to a school friend of mine, we always knew when he was on the air because he broke through on their hi-fi!  He offered me advice on how to become a Radio Amateur and operating in general, nothing on interference though!  I subsequently joined the RSGB and our local radio club, the Burton-on-Trent and District Amateur Radio Society, one of the oldest clubs in the country. 
I was a shortwave listener for several years, but then decided that I wanted to get my Amateur license.  I studied at home with the help of books and also learned Morse code with the help of a record set from the RSGB.  This was a novel idea at the time, once you had learned all the characters you simply built up your speed by speeding up the record.  It also came with a practice exam on a 45 RPM single.  After passing both exams, I was issued the callsign G4RWD in January 1983.
I went on to qualify as a Merchant Navy Radio Officer at Fleetwood Nautical College, Lancashire, receiving an award from the British Sailor's Society as the best marine student.  Our lecturer for 'commercial working' was so confident in my CW ability that he regularly left me in charge of the class, taking on the role of coast station.  I never actually went to sea, much as I had wanted to.  The writing was already on the wall for the Radio Officer, with the future implementation of GMDSS, but several of my friends did get to go sea.  I had regular skeds with one of them on his first ever voyage from Holland down to the West coast of Africa.  Another went on to be a Radio Officer on the QE2, several others joined the RFA.  I took up a post with a government department, which also included a 7-year spell working with the British Military.  I then went on to work for Ofcom, the UK's telecommunications regulator, at their monitoring station.  This too was a varied and interesting job, the primary role being to investigate interference to safety of life and critical service communications; the sources of interference never ceased to amaze me!  I would also bump into my old friend 'LIC' again on 545 kHz, whilst conducting spectrum observations on a night shift.
My main interest in Amateur Radio has always been HF DXing, using CW naturally, although I do dabble with data modes occasionally.  I've been on several DXpeditions and also been fortunate to live and work in a fairly rare place (ZD8).  I've operated as: C6A/G4RWD (NA-54), 5B/G4RWD, ZF1WD, ZD8WD, V47WD, 8Q7WD and 9G5WD.
I've been visiting Portugal regularly since our first ever family holiday abroad there in 1974 during the revolution, staying near Lisbon.  I have been operating as CT7AGZ since September 2012 from the Algarve region in southern Portugal. 
My XYL is from DU9, but in 30+ visits to the Philippines, I've never ever been QRV from there.  Maybe my next trip, hi!
I'm delighted to join CWops and look forward to meeting as many members as possible on the bands.
This biography is what appeared in Solid Copy when the member joined CWops.