The CWops AMBASSADOR PROGRAM
CWops ambassadors are members who have been specially chosen by the CWops president to represent the club in ambassadorial areas of the world. Those who are interested in various CWops activities and who want to learn more about our programs or attaining membership should email the ambassador closest to his/her QTH. CWops ambassadors are knowledgeable about all aspects of CWops and active in some or all activities.
Current List Of CWops Ambassadors
Area
Appointee
Email
Area
Appointee
Email
US (NW)
AC2K
akomenski@comcast.net
Asia (RUA)
US (SW)
KH6LC
kh6lc@hotmail.com
Asia (CN)
US (N. Central)
NS9I
ns9i2016@bayland.net
Asia (JA)
JE1TRV
je1trv@a1lab.jp
US (S. Central)
Asia (MEA)
US (NE)
K3MD
k3md009@gmail.com
Asia (SA)
US (SE)
KC4D
wwbillperkins@comcast.net
Oceania
VK4TJF
leartez@bigpond.com
Canada (WCA)
Africa (AFN)
Canada (ECA)
VE3KI
ve3iay@storm.ca
Africa (AFS)
ZS1C
raoulcoetzee@yahoo.com
Europe (NWE)
GW4J
gw0etf@btinternet.com
S. America (SAN)
FG8NY
fg8ny@hotmail.fr
Europe (SWE)
F6HKA
F6HKA@aol.com
S. America (SAS)
EU (NCE)
EU (SCE)
IK0IXI
ik0ixi@ik0ixi.it
EU (EE)
The CWops ambassador program, sanctioned by our directors and members, is moving forward. There are seven maps: United States, Canada, Europe, Asia, Oceania, Africa and South America, with the ambassadorial 'areas' delineated. For example, in the US, the NE area is the states that normally have 1, 2, 3 or 8 in the callsigns. The SE is the states with a 4 in the callsign.
If you look for your QTH, you will find it in one of the ambassadorial areas. These were drawn up based on geography, not the numbers of licensed amateurs. Some areas include multiple countries with different local languages. In only rare cases is an ambassador a 'national' appointment (e.g. China and Japan). Most ambassadors will cover two or more states, provinces or countries.
(Click Each Map To Enlarge)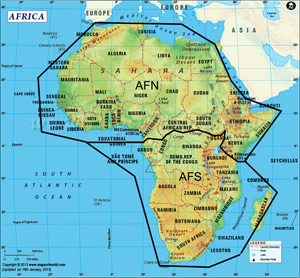 Africa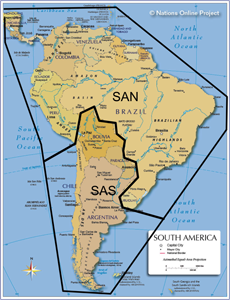 South America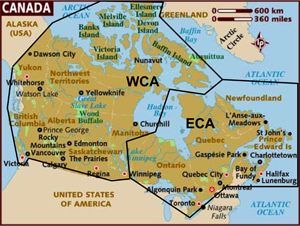 Canada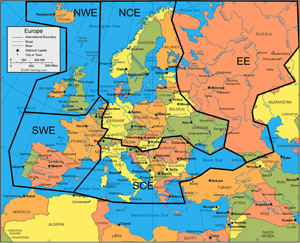 Europe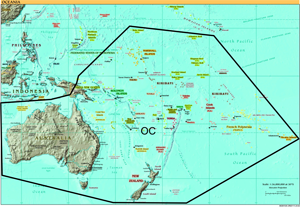 Oceania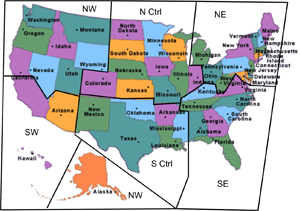 USA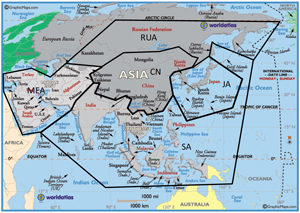 Asia
Ambassadors will be appointed based on their locations within an ambassadorial area. Precedence is given to those who indicate an interest by emailing the club president. CWops activity is a key qualifier. In essence an ambassador is expected to represent CWops at ham events (if any) in his/her area. An ambassador should be able to speak, with assurance, about all CWops activities and programs. Ambassadors will have at their disposal presentations that can be used at an event. In addition, an ambassador can request a CWops banner and sample awards to be used for a booth at a large ham event. For example, the club currently has banners and samples for use in North America (Dayton), Japan (Tokyo Ham Fair) and Europe (Friedrichshafen).
Ambassadors are also encouraged to write articles for publication by ham media in their area (if any). Depending on the number of ambassadors who are serving, each will be asked, from time to time, to provide a report for Solid Copy. The ambassador program will make a very strong statement about the international character of CWops. Today, the club membership is largely made up of US amateurs. There are many qualified CW operators in other areas of the world who do not know about CWops, yet. Our ambassadors are expected to reach out to these people and, at least, make them aware of CWops and its activities and programs.