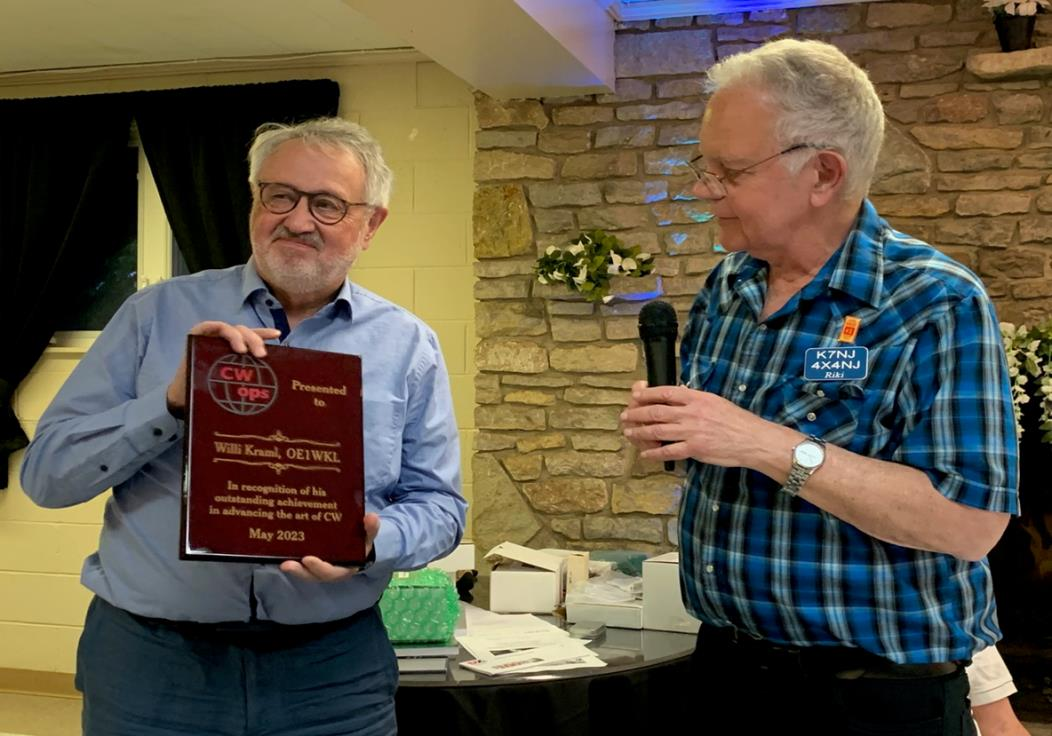 2023 Award Winner

Willi Kraml, OE1WKL. Willi is the inventor and manufacturer of Morserino, an accessory that virtually does everything you might want to do for learning and practicing Morse code. Some of its more impressive features include:

CW Keyer

–

Iambic A&B, Ultimatic, or straight key

CW Generator

–

Random characters, words, abbreviations and texts

Echo Trainer

–

Prompts you with a word, and you repeat it with a paddle or straight key

Learn CW characters as taught by CW Academy, Long Island CW Club and

others

CW Transceiver

–

Long Range WiFi, iCW (CW over Internet), & WiFi chat

Built

–

in paddle and possibility of using an external paddle or straight key
More than 7,800 have been sold so far. Almost half of these were sent to the USA.
There's much more to Morserino. If you're interested, Google "Morserino".
2022 Award Winners 
Kurt Zoglmann – AD0WE. Kurt publishes and maintains the Morse Code Ninja website which includes a complete CW course. He is a co-developer of Morse Camp Software that trains how to have fluent conversations in Morse code. He created a huge number of YouTube Training Videos that include on-the-air words and phrases at speeds up to 50 words per minute. One of his videos discusses Morse Code Speed vs. Proficiency. It explains how to attain Instant Word Recognition at speeds up to 50 words per minute and even faster. His website is best described as a gigantic CW superstore. It has anything you could possibly be looking for about CW – especially CW training resources including Software, Online Training, On-the-air Practice, Hardware, Books, Instruction and Advice.
---
Long Island CW Club . The club was founded in 2018 and at the time of presenting the award, they already had 2,850 members in all 50 states and 43 countries. They're involved in promoting CW worldwide. They have over 75 Zoom classes and forums every week. Their website has 13 videos about CW. There is a special kids program. They promote getting on the air as soon as possible, slow speed is fine, getting a feel for what practical CW is really like. They are developing a device that delivers CW by vibration for the deaf and hearing impaired. Most importantly they always strive to "make CW fun!" which is very much a part of everything they do. The Long Island CW Club was represented at the 2022 dinner by CWops members Anne Dirkman, KC9YL and Cathy Goodrich, W4CMG.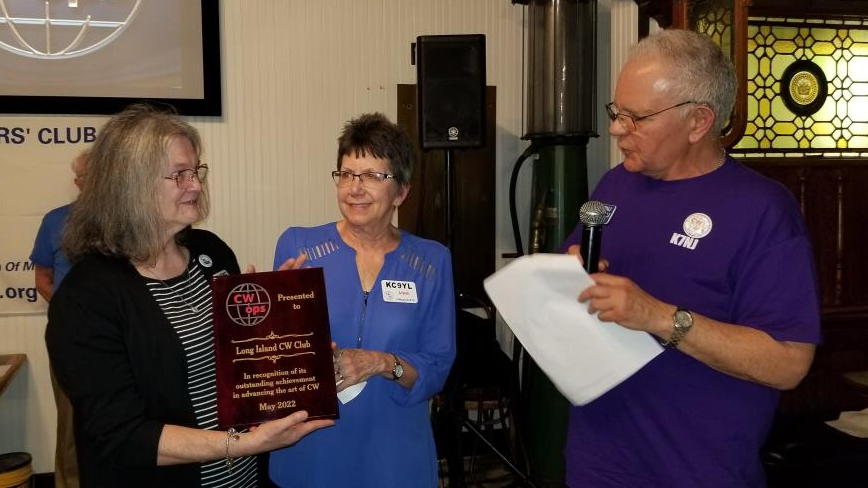 ---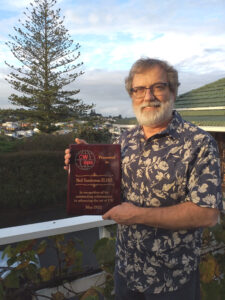 Neil Sanderson – ZL1NZ . Neil launched the NZ Net that has been active five days a week for more than three years. He is usually the Net Control Station, but is almost always present to assist other Net Control Stations. There are about 200 monthly check-ins each month, mostly ZLs and VKs. The 80 meter CW net's purposes include: Encouraging CW operation…Providing training and experience in CWnet operation…Providing training and experience in CW message handling…
Neil originated the NZ Net News, a newsletter which he has distributed via email twice a month since 2019. Each issue has a main article dealing with an aspect of CW operation and articles of general interest to hams are also included.
Neil wasn't able to attend the Dayton dinner but his plaque was shipped to him and he addressed the event via video.
---
2021 Award Winner

The K1USN Radio Club, for creating and managing the K1USN Weekly Slow Speed [con]Test (SST)  that provides a place for new and unpracticed CW operators to gather and operate at relaxed speeds in a friendly and encouraging manner that helps them continue to improve their CW skills.
2020 Award Winners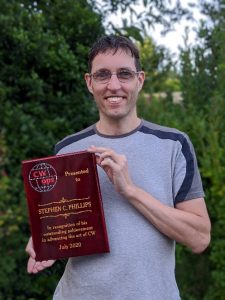 Stephen C. Phillips, is the author and maintainer of the Morse code trainer that has been used by thousands of students in the CW Academy to help them learn Morse code. This web tool was created primarily for beginning students but there are some exercises on the web site that can help students at higher levels. The tool has been maintained by Stephen for several years at no cost to the amateur radio community.
aaaaaaaaaaaaaaaaaaaaa
Stephen C. Phillips, Author and Maintainer of Morse Code Trainer
---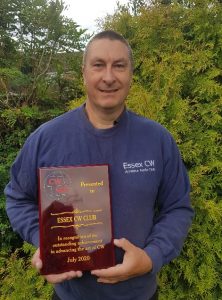 The Essex (UK) CW Club, for providing a focus for CW interests, and then starting bootcamps, where day long intensive CW teaching takes place. Thanks to Essex CW's lead, there are now CW bootcamps held all over the UK and they are making a real difference to CW interest and activity.
aaaaaaaaaaaaa
……………………..
 Dean Saxton, G4WQI, Chairman, Essex CW ARC
2019 Award Winners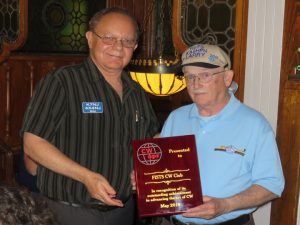 FISTS CW Club In recognition of its promotion of CW over the years, and especially for advancing the skills of newcomers, CWops is pleased to award FISTS the CWops Award for Advancing the Art of CW.
Larry Fridley, KA8HFN, a Director of FISTS Americas Chapter, accepts the award on behalf of FISTS from K7NJ, CWops Award Committee Chairman.
---
Hans Summers, G0UPL In recognition of his development and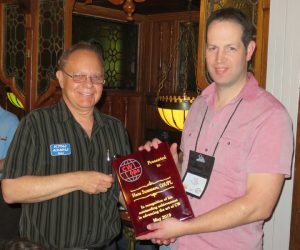 production of the unique QCX CW transceiver, It's with great pleasure that CWops awards Hans Summers, G0UPL the CWops Award for Advancing the Art of CW.
aaaaaaaaaaaa
Hans Summers, G0UPL accepts the award from K7NJ.
2018 Award Winners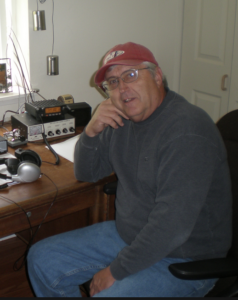 Alan Boomgaarden AE7PG has maintained a unique CW practice net, 6 days a week for 7 years. The net meets on 75 meters each morning, Monday through Saturday, using voice to check student's progress and CW for practice. Allen's unique method includes students copying trivia questions, poems, stories, call signs, radiograms and much more. Each morning Allen starts off by asking: Who is here for code practice and what speed do you need? Students all respond with a hearty verbal "bingo" when correctly copying the CW.  Alan sent this note via email:
I have received the fantastic plaque and I showed it . . . at our local hamfest. I . . . will display it with pride. Once again, thank you and your organization for the presentation!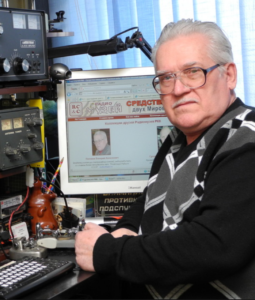 Valery Pakhomov UA3AO is known for his continuing authorship of books and articles promoting CW in the Russian language. Most notable is his Russian language book, Keys Connecting the Continents – A History of the Pioneers of Telegraphy Including 150 Pictures of Keys. Three of his many articles were awarded diplomas for Best Publications of 2015 by the Russian magazine Radio.
Valery began the CW for Beginners forum on QRZ.ru (Russian). He also designed a two lever bug which was built and demonstrated on YouTube. Valery sent this note via email:
Thank you so very much for your congratulations. I couldn't ever suppose that my popularization of The Art of CW would be appreciated by such friendly way.

Straight Key Century Club (SKCC) has been a very active organization promoting CW for 12 years through activities, awards, and helping newcomers.  SKCC, with over 18,000 members promotes CW on the air as well as maintaining an excellent program for teaching CW.  Their awards program includes 14 different CW awards.  SKCC operating activities include two monthly sprint contests, an annual straight key month, a monthly straight key night and a monthly 36 hour Sprintathon contest.
2017 Award Winners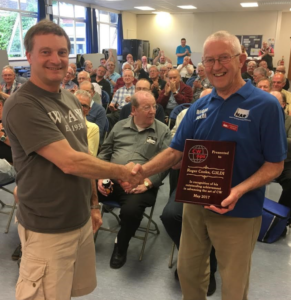 Roger Cook, G3LDI received the 2107 CWops Award for Advancing the Art of CW. The award was presented to him at a meeting of the Norfolk (UK) Amateur Radio Club by G0DWV on Wednesday May 24. In a note to Riki, K7NJ, he writes,
I can assure you (the plaque) will take pride of place on my wall. I don't have that many plaques but this one I do treasure. I have always done my best to encourage CW and I am, for my sins, the GB2CW Coordinator for the RSGB, organising Morse transmissions and  classes. We do lots of it here in Norwich. You have probably seen my RSGB book, Morse Code for Radio Amateurs.

Very pleased and humbled. Many, many thanks again.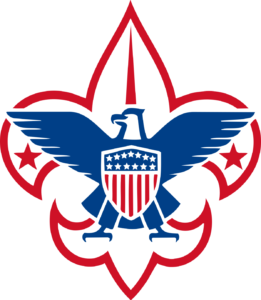 Boy Scouts of America received the award in recognition of its outstanding programs over the years that advance the art of communicating with Morse code. Many radio amateurs can trace their interest in CW to have begun with achievement programs and activities in the Boy Scouts.
2016 Award Winners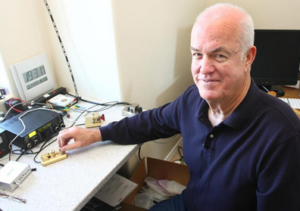 Chuck Adams, K7QO for writing and publishing a CW training course manual and CDs which he distributes at no cost to students.  He also personally teaches CW to a class that he organized. In accepting the award, Chuck wrote,
I have always been and will always be a CW only operator. It is my favorite mode and has given me many years of pleasure and made being on the air a joy.  All CW ops should take pride in their skill, no matter what level.  It is a skill that must be developed and practiced as much as possible.  There seems to be a growth in the number of CW operators and an interest in developing skills. This is only due to the number of active CW clubs and their growth through hard work on the part of the leaders.

I am trying to do my part in developing teaching aids and spreading the material at no costs to the students. Thank you for the award. It will hang in the shack to remind me that the work is doing some good.  I hope to work many of you on the air in the coming years.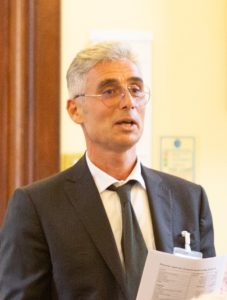 Carlo Consoli, IK0YGJ for writing the amazing book Zen and the Art of Radiotelegraphy. This 108-page book is written in four languages and is available from Amazon.  The English version is downloadable free. This book is an encyclopedia about CW, and especially about learning it.  The most valuable section explains how to teach yourself to copy CW at speeds greater than 50 WPM. Carlo wrote:
Thank you, thank you all. I would first like to say that I am really sorry not to be here with you today. I am really pleased and humbled to find that my intention to share my experience in CW was accepted with such grace by the CW community.

It is, then, with great humility and honor that I accept the CWOPS Award for Advancing the Art of CW. The Art of radiotelegraphy, being an art, is part of the things that we are not entitled to buy. And, strange enough, the things that cannot be bought by money are the only ones that become a permanent heritage of ourselves.
Rob Brownstein, K6RB for creating, organizing, marketing, and actively participating in the operation of CW Academy. CW Academy trains more than 400 people in Morse Code every year. CW Academy was Rob's idea, and he has been the driving force behind CW Academy since its creation. By virtue of his superb organizational abilities, he has enlisted the assistance of dozens of advisors and administrators. CW Academy is what it is today because of Rob's creativity and hard work.