CWops# 2894, from Bozeman , MT , USA.
---->
View on Google maps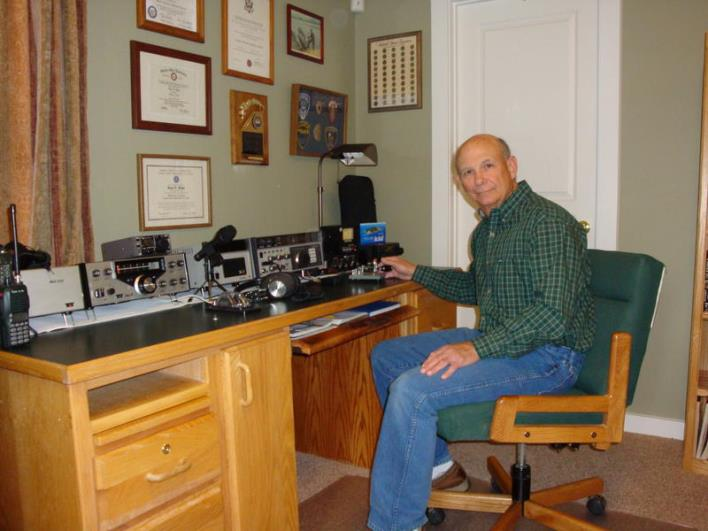 In 1979 I received my first amateur radio license as a Novice operator and operated briefly with a Ten Tec Century 21 while on a sailboat using the 50+ foot mast as a way to hoist up an inverted V wire. I passed the General license exam at the FCC office just in time to operate maritime mobile on a sailing passage with my family, from Texas to North Carolina.
My family and I moved around with some regularity during my career in the Marine Corps. I was fairly active in ham radio during my career with the Marines and always found a way to get on the air. When I retired from the Marine Corps, we took the family and went cruising on a sailboat again; once again we were /MM and made a lot of friends on the Maritime Mobile Service Network and the Waterway Radio And Cruising Club as well as the Seven Seas Cruising Association. Then out of the clear blue, we decided to give the sailing life a rest and moved to Montana, where I was fortunate to work for and retire from Montana State University. Somewhere along the way, my wife and I both decided to get vanity call signs and that is how I became W7RIP which was easy to send in code but sometimes confusing when using my nickname of Rip.
My station consists of an Elecraft K3 and K1; a TenTec Omni 6; an Alinco DX70; and an assortment of keys including my new Begali simplex mono. I am currently running barefoot into a Hex-Beam and I also have a Force 12 Sigma 40XK, and a wire dipole. My CWA advisor Mike (N5KB) and our academy group of hams have really created a sense of both camaraderie and enjoyment that have added a new dimension to CW operating. I thank them all. The journey started a long time ago with building a catswisker crystal radio in the Scouts, and today I am continuing the trip with the CWops. See you on the bands.
This biography is what appeared in Solid Copy when the member joined CWops.