CWops# 3332, from Buffalo Grove , IL , USA.
---->
View on Google maps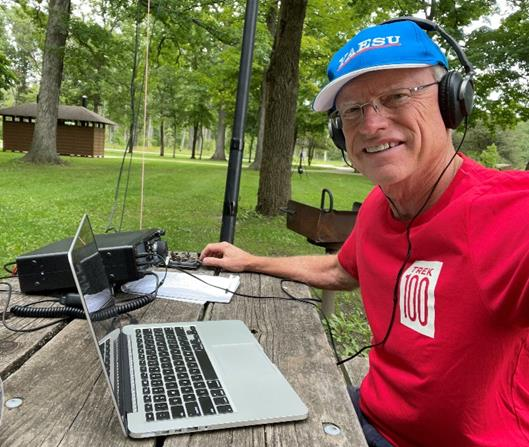 Born and raised in the Chicago area, I got interested in radio and electronics back in grade school and high school. I received my ham license in 1976, partially at the urging of my girlfriend's (now wife) grandfather, who was licensed back in the 1920's. In the early days I sampled as much as ham radio had to offer, including HF, 6 meters, repeaters, packet radio and early digital modes like PSK31. I've held a "know code" Extra license since 1987.
In 2001 I bought a Yaesu FT-817 at Dayton and became enchanted with QRP and portable operation. Being an avid bicycle rider, operating QRP portable just seemed to be a natural fit. I was traveling for work quite a bit in the 2000s so the '817 became a trusted travel partner for those nights on the road. I even took it along on a family vacation to Aruba in 2003, and had a blast working beach portable as P40WP.
My interest in CW was reignited in 2013 and I discovered the Straight Key Century Club (SKCC) in January 2014. This really got me interested in CW on-air events. Later that year I joined the NAQCC.
During the pandemic in 2021, as I was transitioning into retirement, I found I had more time to devote to CW study and practice. I took the Intermediate class in winter 2022 and really enjoyed it. Moreover, my skills improved dramatically. I kept at it during 2022 and signed up for the Advanced class in winter 2023. Along the way, Jim, N7US, encouraged me to do the MSTs and CWTs, which also helped my on-air skills.
My interests in ham radio remain diverse, including straight key CW, occasional contesting, digital modes, including FT-8, FSQCall and WinLink, as well as repeaters, both analog and digital (D-Star, DMR and Yaesu Fusion). My favorite activities remain the various weekly/monthly CW sprints and POTA hunting and activating, mostly on CW. I can easily fit in a 1–2-hour activity as opposed to an entire weekend for some other events.
As far as awards, I have ARRL DXCC and Triple Play WAS but the one I am most proud of is being on the top of the list for SKCC "miles per watt", which I achieved by working a ham in Pennsylvania with just 2.5 milliwatts for a total of 213,757 miles per watt. Good conditions, but great ears on his part made it possible.
My other hobbies include bicycling, senior softball, astronomy, photography, and golf. With all these interests, I'm looking forward to being able to spend more time enjoying them.
Professionally, I am a retired Chief Financial Officer and pleased that I can spend more time with family and enjoy the many hobbies I've accumulated. Not surprisingly, I was also the treasurer of my highly active local radio club in the Chicago area for ten years. I have been married for 45 years to the girl I met on CB radio 49 years ago, have two daughters, two sons-in-law, two grandchildren and three grand-puppies.
Many thanks to my instructors, Ed, K6HP and Serge, KK7RR, as well as my classmates N1CFO and W4CWA for their patience and support. I look forward to meeting up with you on the air.
This biography is what appeared in Solid Copy when the member joined CWops.