CWops# 3339, from Wabasha , MN , USA.
---->
View on Google maps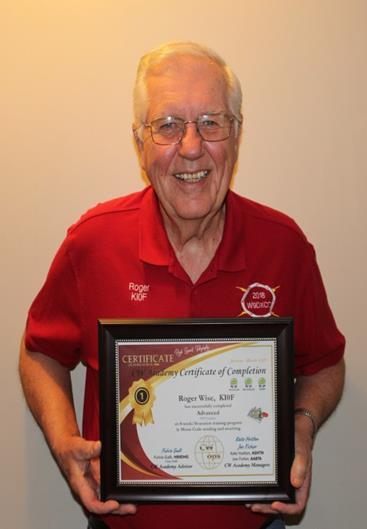 How did this wonderful hobby start? On a rainy Saturday afternoon one of my buddies helped me clean out the attic, and we found an old AM shortwave radio. As some of you have been down this road before, you know the rest. I started to earn my Novice back in 1962 by driving 60 miles after work to code class. Morse was very hard for me. The entire class was taking their 5 wpm test and I still was working on getting all of the letters down. I struggled through my Novice days and worked up to 20 wpm for my Extra.
From that point on, I made a commitment never to let CW go. I stayed at 20 wpm all these years, even with working tons of CW contests. This past January, that limit made a breakthrough, thanks to CW Academy.
My lovely wife Jan and I have been married for 55 years. We have 3 children, 7 grandchildren and 1 great grandchild. I was self-employed all my life as a barber. I had my one chair barbershop here in Wabasha, MN (home of Grumpy Old Men movies), for 43 years and retired 12 years ago. Other hobbies include raising giant pumpkins, singing barbershop quartet harmony for 12 years, playing golf every chance I get. I also work with our local hospital in emergency communications. We live out in the country on 4 acres of lawn to cut, along with a natural prairie grass that we started many years ago.
I want to thank Fulvio HB9DHG for his patience with this 80-year-old in getting past that 20 wpm threshold. I also want to thank my good friend, Mark KB9S, for the nomination. We go back many years working with our good friend, Paul W0AIH (SK) at his contest station in WI.
This is a wonderful hobby and, after CW Academy, it has even gotten better. Knowing this group of Ops is top-notch in my book. I am very grateful to be a part of it.
This biography is what appeared in Solid Copy when the member joined CWops.