CWops# 1959, from Missoula , MT , USA.
---->
View on Google maps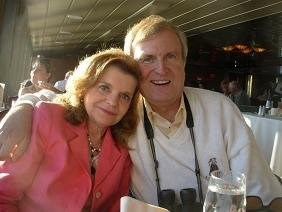 I had little choice becoming a ham. Born into an all ham family, I learned Morse code at age 6. It was a family game to see who could send and copy the fastest. My mother always won. She was a fine CW op. And dad was the equipment and electronics theory mentor. Got my Novice at age 10, General at 11 and Extra at 15. First Class Commercial Radiotelephone and 2nd class Radiotelegraph at 16.  High school and college years spent chasing contests, DX and then, uh girls. What a distraction.
Then marriage and family while chasing a broadcast engineering career. Lived in MT, SLC UT, Wash DC and Seattle WA working for CBS Radio and other groups for 35 years with the ham radio hobby in moth ball storage. Came back home to MT in 2015 and am trying to get active again. Still enjoy CW, contests, DX, building and optimizing antennas. Only chasing one gal around these days. The one I married 45 years ago. The attached pix is me with my angel bride BB while cruising the Puget Sound a few years back.
In the 2+ years I've been back in the Last Best Place, I've been trying to concentrate on remodeling our *new* but rather neglected 25-year-old house. We enjoy almost 360 degrees of low angle views high on a hilltop with 3 acres overlooking Missoula. I thought I'd be "retiring" from the broadcast engineering profession but the local 7 station cluster needed help, so I got conscripted back into the 24/7 racket of keeping DJs happy and radio stations on the air. Some are the same stations I started out with in the 1960's while going to college.
What little free hobby time I can steal (after finishing my honeydo lists) is spent operating and rebuilding what I hope will become a competitive station for contesting and DX. Still have a long way to go to get everything optimized but you can see the project in progress on my updated QRZ.com page. No tall trees on my property so I had to "quickly grow a few taller" in strategic locations to get better skyhook performance.
I have managed to hit the major contests and most 0300 CWTs. It's fun and rather nostalgic to work some of the old gang from the CD Party days of the 60's in CWT 50 years later. Only a few original call letters remain however with so many going to short vanity calls.
We have some really superb CW ops out here on the west side of Big Sky Country including N9RV, K0SN, N7IP, W7KF, W7XT and also W7EE, a very fine but relatively recent Morse practitioner. I'd like to thank Gary as well as Lar, N7SV for the nomination to this special group of folks who are dedicated to the preservation and promotion of still perhaps the simplest, most efficient and yet very personalized mode of telecommunications invented by mankind: CW!
This biography is what appeared in Solid Copy when the member joined CWops.