CWops# 2563, from Venezia , Venezia , Italy.
---->
View on Google maps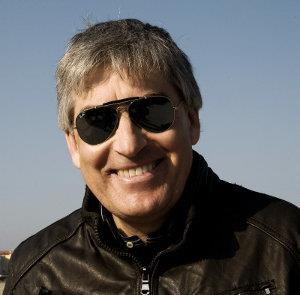 First of all I want to thank my sponsors: Bud AA3B, Helga IN3FHE, Roberto I2WIJ, Ignacio EA4OR, I am honored to be a member of CWops! When I read the Bud AA3B email that proposed me to become a member of CWops it was a very pleasant surprise for me!
I have always been fascinated by radio communications, since I was a child I liked grandma's tube radio and then I played a lot with portable shortwave receivers.
In 1993 I obtained the license and the current call. The choice to devote myself mainly to telegraphy is due to the charm that this mode of emission has always exerted on me, evoking the romantic side of the radio, remote situations and places, like an old black and white film. But this is not the only reason, I live in a densely populated area and there are not many possibilities to install large antennas, also I don't want to annoy the neighbors with huge objects.
The most obvious solution was a vertical multiband antenna which – however – as we all know is a downward compromise in terms of performance, so the choice of CW partially compensates for the situation, considering that I operate in low power with the 100W of my radios.
Professionally I worked as a software developer at the largest Italian TLC operator and since December 2018 I am retired.
I live in the north-east of Italy, in the metropolitan area of Venice, 15 minutes by tram from the historic center of the lagoon city, where I often go for a relaxing walk with my wife Roberta. My other passions are hiking in the mountains and photography. Venice and its lagoon offer me great photographic opportunities, together with the splendid landscapes of the nearby Dolomites.
My activity in HF CW consists of participating in contests, hunting DX expeditions, random QSOs with those I meet on radio bands.
In the VHF bands, since many years I have participated as a CW operator in European VHF contests with the IQ3LX portable multi-operator station.
In 2016, together with my friend Giulio IW3HVB (passionate EME), my wife Roberta and other friends, we organized the 17th International EME Conference in Venice (www.eme2016.org).
For the occasion Pietro Begali I2RTF (CWops 621) created the key "Eclipse 2016" (www.i2rtf.com/limited-edition.html), produced in 249 pieces, of which I have the serial number 002.
In 2018, together with Giulio IW3HVB and two other friends (Vittorio I3VFJ and Fabio IZ3IBL), we activated for the first time a 1296 MHz EME portable station on the island of Mauritius in the Indian Ocean with the call 3B8MB (www.iw3hvb.it/?page_id=396). Several QSOs have been made on CW.
In times when the moon was not visible, we had fun in HF with a minimal HF setup: a Yaesu FT-857d, a wire antenna and an SGC-239 smartuner, with which we made a thousand QSOs, most of them in CW.
In 2020, we had planned to activate an EME station at 1296 MHZ in the atoll of Rangiroa, in French Polynesia with the callsign TX7EME (already used in the past). Unfortunately, the Covid-19 tragedy erased everything. We hope to do it in the future.
This biography is what appeared in Solid Copy when the member joined CWops.