CWops# 2885, from Moscow , ID , USA.
---->
View on Google maps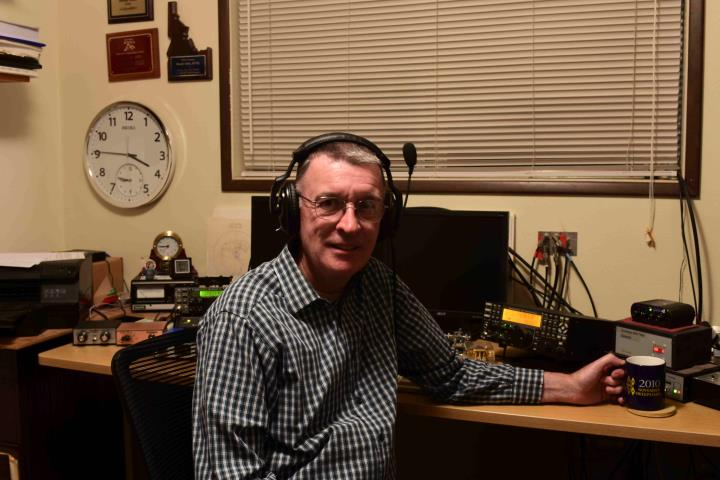 First off, I want to thank Jim, N3JT, for sponsoring me, and K4BAI, N0TA, and N3QE for adding their sponsorship. I am proud to be a member of CWops.
In the past twelve months I made 1900 CWT QSOs. Just over half were with my home station consisting of an Elecraft K3, a Force 12 C4SXL at 60 feet and a half sloper for 80 m. The other half of those Qs were with my mobile rig, an Elecraft KX2, KXPA100, and a Scorpion 680 mounted in the center of the bed of a 2002 Ford Ranger.
I was initially licensed in 1975 as WN5QMP, then WB5QMP, while living in Louisiana. In 1996, after passing the Extra written and code test, I became AB7TK in Idaho. A call ending in K isn't the best, in my opinion, so I got the current call of K7TQ. With very few exceptions all of my ham radio activity is CW or RTTY. I've got 220 CW and 135 RTTY DXCC counters. I am a member of the Idaho DX Association and a charter member of the Spokane DX Association where I was president for two years and Vice-president for five more. In 2009 I co-chaired the Pacific Northwest DX Convention in Spokane, WA. In 2013 and 2017 I was the chair of that convention also held in Spokane. For the 2022 convention, the first to be held since 2019, I will co-chair that one with N7GCO.
In addition to operating in DX and domestic contests from the home station, I've multi-operated mobile with WA0WWW three times in the 7QP, five times in the Salmon Run (Washington QSO Party), and once in the Kansas QSO Party; with N7WA once in the Salmon Run and once in the 7QP; and with N7ZUF three times in the Idaho QSO Party. I've got two plaques on the shack wall for the RTTY Roundup, one for the Salmon Run, and one for the Kansas QSO Party.
I retired from the US Forest Service Research after 25 years of forest road erosion research in western states plus LA, AR, KY, GA, and MN. My major non-radio interest is self-contained bicycle touring which means that you carry all your clothes, cooking and camping gear on the bike without any vehicle support. Tours have been in groups of 10 to 16 riders. My wife and I have done month long tours of Yorktown, VA on the Atlantic coast over the Appalachian Mountains to the Mississippi River in Illinois twice; Eugene, OR to the Pacific coast the south to San Francisco; Route 66 from Chicago to Amarillo, TX; plus a handful of other two week tours.
I look forward to CWT sessions where I can now send RANDY 2885 rather than RANDY ID.
This biography is what appeared in Solid Copy when the member joined CWops.