CWops# 3194, from Glencormack , Co.Wicklow , Ireland.
---->
View on Google maps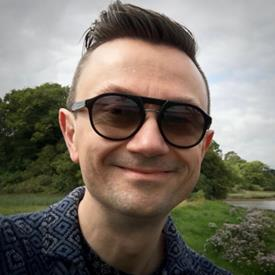 I remember playing with a toy Morse telegraph as a child in the '70s. It had a spool of paper and a pen that touched it when keyed. Sadly, in then-communist Poland it was not possible to get more paper and we needed the pen for far more important things… I dabbled in radio as a teenager, but it took me 35 years to get back to it. I got my license in Ireland in October 2021. CW has been the reason for getting it. My first QSO was CW! It remains my primary interest, although I would like to develop RTTY skills.
I have started learning CW about the same time as my good friend Megan EI5LA. I am happy to have followed her into CWOps. Our call signs are so similar because we passed our exams at the same time. We ragchew often and we are both avid contesters. However, because we work the same ones, it causes a good bit of EI5LA vs EI6LA confusion. We have worked the same stations only minutes apart! Our mutual enthusiasm has helped convince a few of our fellow National Short Wave Listeners Club (https://swl.ie) members in Ireland to take up CW. We hope to bring more EI into CWOps.
Professionally, I have always worked in IT: from mainframes through PCs and Macs into the cloud, AI, coding in Fortran, Pascal, Basic, C and C++, Prolog, VB, Lisp and R, cryptography, security, databases, and analytics. Since 2010 I focus on machine learning, statistics, and data science at https://projectbotticelli.com. I have traveled a lot and I have met a lot of interesting people over the years. I used to speak at many IT conferences where I got the honour of sharing the keynote stages with Bill Gates and Neil Armstrong.
My other hobby and an avocation is black-and-white, large format, film-based, silver-gelatin photography, which I learned as a kid. More recently, I had the honour of studying its intricacies under photographers who have defined the 20th century American West Coast school of photography. Their friendship helped turn my hobby into a life-long passion of looking for abstract, beautiful patterns in landscape. See https://rafal.net.
Thank you for having me in CWOps. I look forward to ragchewing with many of you.
This biography is what appeared in Solid Copy when the member joined CWops.