CWops# 2850, from Palm City , FL , USA.
---->
View on Google maps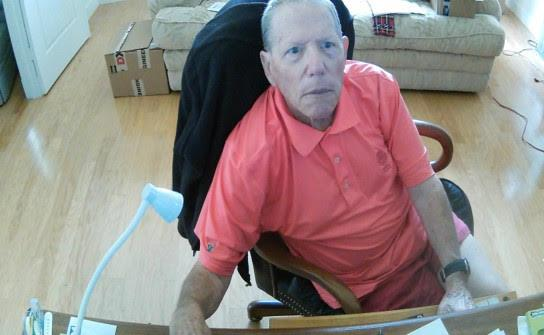 First, let me thank, Hank W6SX, for nominating me. I have worked a lot of the members, in contest etc. Glad to be a member, and when time permits, the Wednesday runs are fun. And some contesting to give out points. Belong to ARRL, AMSAT, Florida Contest Group.
Got my License in 1959. First transmitter was an ARC 5 . Made a transmitter with a single tube. Just a dipole in the pine trees. Had a couple of Heath Kit transmitters and receivers. While in the service I operated from Vietnam, Guam, Philippines, Okinawa, The Island of Shimi Island, off the coast of Alaska. The Hospital Ship USS REPOSE in the South China Sea. And Guantanamo Base, Cuba. And a lot of state side bases. Was in the U.S.M.C. for six years. Used the PRC 25 in Vietnam 65-66 on six meters. Made a straight key. 3rd Battalion, 7th Marines, Lima Company, 1st platoon. Flew the TA-33 jet trainer and F4 Phantom for a couple of years. In civilian life flew, Cessnas, and Piper Arrow, PA28R.
Worked in electronics for E.G.G. Made parts for the star navigation system, for the astronauts. Also did reverse engineering. Worked for Transitron Design and Manufacturing of linear and digital circuits. Worked for a cable company in Battle Creek, Michigan and Scarborough, Maine. Last twenty-five years work for a school department, repairing AV, radios, televisions, alarm systems, phones. CATV.
Returned to my home state of Florida. The family has moved so often, I have to check the newspaper, to see where we are.
We built a house in an HOA community, Palm City. FL. That was twenty years ago. Now going to move to a small ranch in Port Saint Lucie. Has some land, and no HOA or Association. Do not climb any more so plan to put verticals, and a couple of dipoles.
ALL EQUPMENT RUN ON BATTERIES XXX;
HF Elecraft K3, KAT500 Antenna Tuner, KPA500 amp.
40/20 DIPOLE,
3EL WIRE 20M BEAM AIMING NORTH.
ALL ANTENNAS IN ATTIC
This biography is what appeared in Solid Copy when the member joined CWops.