CWops# 1937, from Jupiter , FL , USA.
---->
View on Google maps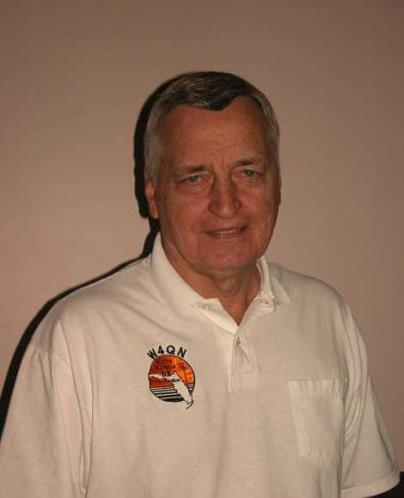 I have been a Ham for 66 years, obtaining my Novice license in February 1952 – WN9QQN in Chicago, Illinois. I built my Eldico 75watt transmitter, paired with a brand new Hallicrafters S-40B receiver earned working nights after school. Great fun operating on 80M Novice band, I still have the 3741 kc crystal. I passed the General the following June keeping my call W9QQN. Although moderately active the first few months after being licensed I did go into a long hiatus for the next seven or eight years while going to college, graduating with an EE degree, getting married, and then going into the Navy flight program. This was a busy time as there was very limited time and opportunity for "Hamming". Upon leaving the Navy I began my career with Motorola in the Communications Division working on the design of two-way FM radio products. It was a great time to be in this business, transistors were replacing tubes in receiver circuits and in all but high power stages in transmitters. The impact of solid state designs to the communications business grew exponentially, essentially following "Moore's" law, It was a very exciting and rewarding four decades of work.
With work and family becoming steady and stable and working there was time to again think about Ham radio. My two-way radio involvement became the stimulus to dig out my old HRO-50T1 from storage pick up a used Heathkit Mohawk transmitter and with a 40ft tower and Mosley tribander I was back on the air. Several of the local hams were avid DXers and up to then my DX may have been a VE or a XE. The 'DX Bug' bit and my focus was on working DX and achieving DXCC to be eligible to attend the W9DXCC annual convention held in Chicago. DXCC was achieved in the first year along with improvements in gear: Collins 75A4, adding SSB capability and an Amplifier. Career opportunities landed my family and I into the UK and the reciprocal call G5ABA/W9QQN; yes in those early days you had to use this call combination. Getting DXCC from the UK is almost a weekend effort based on opportunity but it was a challenge due to the British TV channel scheme and very low power (100w) regional TV transmitters. Back to Illinois, with bigger tower and antennas I continued the DX quest and over the next few years the coveted DXCC Honor Roll was achieved. This was achieved with the General Class license, however with the event of Incentive Licensing, and the loss of the low end of many bands was enough incentive to go for the Extra Class license in 1969. During this time I founded the Northern Illinois DX Association (NIDXA) along with several associates who now are SK's.
More career opportunities brought a move to Florida, escaping the "Black Hole" of Northern Illinois for the Sun and propagation of South Florida in 1971. The hole was dug and tower in place before the house was ready to move in – had to have the right priorities! The rules then required changing your call to reflect the district you reside in (wish that had not changed), and the Vanity License program permitted applying for a new Prefix and keeping your old suffix if not already in use. Although there were other call opportunities, I choose to keep my suffix and add the new pre-fix — W4QQN. I also held W9QN as a secondary call, but I was in the Fourth District and believed it was important to reflect that identity so I relinquished my 1X2 secondary call. Contesting was the focus and soon 5BDXCC was worked in 1974, and the frequent DX-peditions of the 70's, 80's and 90's continued to add to my DX totals. The vanity license program gave me the opportunity to upgrade my call to a 1X2 and keep the district and essentially my historic suffix identity – W4QN and only the second holder of this call.
In the early 70's we formed the South Florida DX Association along with many of the members of the old Florida DX club and it's now one of the most senior DX clubs in Florida. The decades flew by and in 1996 I retired from Motorola. After taking care of the often neglected chores about the house I finally was in a position to take on something new, yet compliment my hobby of ham radio. I acquired the Cubex Quad antenna company of California in 1997, then in its fortieth year. I relocated the company to Florida, first to Davie (near Fort Lauderdale) and later to Jupiter where I also relocated my residence as well. It was a fun nearly ten years of designing many new antenna products, traveling to Ham conventions, and making many new friends and great customers. Cubex was acquired by Roger, Tennadyne Antennas in 2006. Cubex has just recently celebrated its Sixtieth year and the oldest manufacturer of Cubical Quads World Wide.
"Cubex" was a very pleasant experience but focusing on product and customers probably was the reason I still need one entity to have #1 Honor Roll status. I missed the P5 activity. However, since 2006 we have focused on getting back up to speed in the world of DXing, determined not to miss another ATNO. In 2007 I borrowed a Triband Mosley beam, oriented it NW (no rotor) and made sure I got BS7H, Scarborough Reef in the log. My all-time DX totals: Mixed 378, Phone 365 and CW 348. In the last ten years my operating activity has been pretty balanced between CW and Phone. I have also been very active in the CQ DX Marathon for the past few years, and my score has ranked in the top 5 for CW. For those who like to operate, the CQ DX Marathon is a great 'get on the air' motivator – Every year everything is new, and I have managed to work at least 260 entities or more each year. Great fun, try it I think you will enjoy it.
This biography is what appeared in Solid Copy when the member joined CWops.