CWops# 2402, from Columbia City , IN , USA.
---->
View on Google maps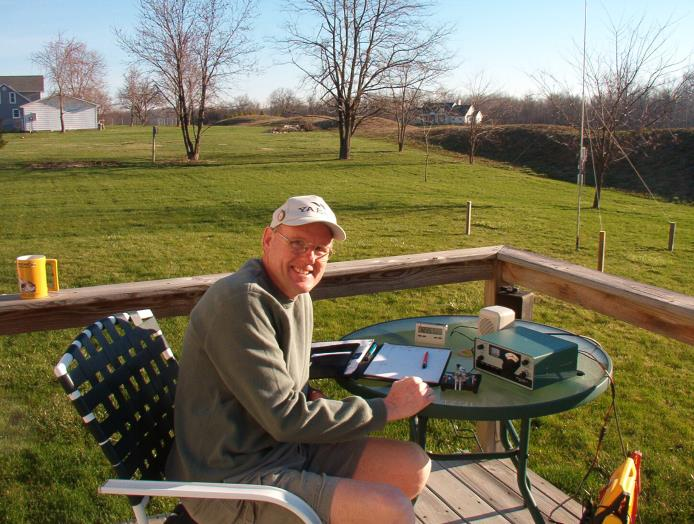 First, let me thank my nominating member Jim AC9EZ and those that saw fit to sponsor me. I'm not exactly sure who they were but I have an idea. THANK YOU!
Much of my ham radio information is documented on my website: wb9dlc.com.
I got into amateur radio via the SWL (shortwave listener) route in the late 60's. What an interesting time for a SWL – many high-power broadcast stations around the world transmitting their versions of what was going on in the world. 
I grew up in South Bend, Indiana about 1 mile from The University of Notre Dame.
I was first licensed in 1970 as WN9DLC and did most of my Novice work with a Globe Scout 680A and a National NC173 Receiver. Those were great times!
After upgrading to General about a year later, I bought a used Heathkit HW-100 from a friend. I had helped him build it a couple of years earlier.
I have typically been very active, except for an 8-year QRT from about 1996 till December of 2003: Sometimes life gets in the way of Ham Radio!! This included running RTTY with a Model 15 Teletype machine and an Electrocom FSC-250 converter made by South Bend native Burt Jaffe – W9BJ (SK).  In 1980 I interfaced a Commodore Pet Computer for RTTY – one of the first computer based RTTY setups. 
I operated a lot of packet before the nationwide packet network became somewhat obsoleted by the internet.  Since December 2003, I'm active on HF and 2 meters again and having a blast.  At the present time I operate mostly CW at both QRO and QRP levels.  I also operate some FT-8 and PSK31 and occasionally some SSB.
For a period of time I was operating a lot with vintage gear and had a good time with that.  I have a small collection of vintage gear, but I need to pass it on to others who can enjoy it.
I am having fun with some QRP activities. The most fun is to operate portable in a park, or even just out on my deck during the summer.
The current main rig is a Ten-Tec Omni VII.  A great CW rig.  It's getting a little old, now.  I have started thinking about what the next rig might be.
Another main hobby is amateur astronomy. I have a Celestron Nexstar 8i computer-controlled telescope. My telescope setup is fairly portable, and I enjoy taking it to truly dark sites.  I enjoy visual astronomy (looking through the eyepiece and locating and enjoying the wonders in the sky). Part of my website (wb9dlc.com) is dedicated to my astronomy hobby. 
I've been married to my wonderful wife Carol since 1975 and have 2 grown sons, a wonderful daughter-in-law, a future daughter-in-law, and a couple of grand children that I just cannot get enough of.
I am excited to participate in CWops activities. I am now proudly CWOPS Member #2402.
This biography is what appeared in Solid Copy when the member joined CWops.