CWops# 2186, from Naples , FL , USA.
---->
View on Google maps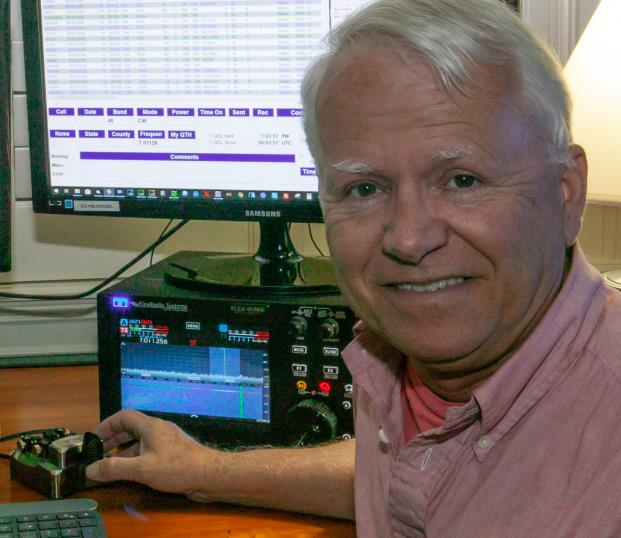 Thank you Hank W6SX for the Cwops nomination, and thank you sponsors and CWTers for the many contacts, and for being so welcoming. I look forward to participating and being a part of this nice group.
My journey in ham radio started when I was ten with a pair of 100 mW CB band walkie-talkies under the Christmas tree. My younger brother Dave (now N7PO) and I ran around our house in Westport, CT seeing how far apart we could get and still hear each other. Not so coincidentally, my friend Skip (now WA1JQC) across the street also received a pair of walkie talkies and the chase for neighborhood DX was on!
When I was 13 our family moved to Naples, FL. I remember seeing a huge antenna behind a neighbor's house. When I asked my dad what it was, he suggested I just go ring the doorbell, introduce myself and ask the owner! I was lucky, not just for the wise nudge from my dad, but a nice lady answered the door and invited me right in. She introduced me to her husband, Lloyd McBurney W4BCB (SK), who brought me into a room filled with Collins S-Line gear. Everything was just beautiful to my teenage eyes. I had never seen anything like that in my life. It looked like something from the NASA control center. After our first on-air contact I knew this hobby was for me. My second lucky break that day was being sent home with the (now somewhat famous) 33LP by Russ Farnsworth titled the Revolutionary New Word Method to Learn Radio Code. Lloyd administered the 5 wpm code test and Novice exam a few weeks later. After passing the test, he told me I no longer should call him Mr. McBurney – "Lloyd" would do from now on, as that is how hams address each other.
I'm grateful for all the friends I've made through ham radio. In the middle of tenth grade, our family moved to Philadelphia. I built a Heathkit SB-101 transceiver and SB-200 amp. My parents let me install a quad antenna atop a 50 ft. tower next to the side of the house. I soon met Cezar, PY2ETA in Sao Paulo, Brazil on 20m SSB. When my father traveled to Brazil on month-long business trips, Cezar would invite him to his house for dinner, so he could speak to my mom and us kids back home in Pennsylvania. What a thrill that was!
After 50 years as a ham I feel the hobby is as interesting, exciting, and filled with possibilities, as the first time I saw that amazing Collins S-Line station as a teenager.
This biography is what appeared in Solid Copy when the member joined CWops.