CWops# 2102, from Bloomington , IN , USA.
---->
View on Google maps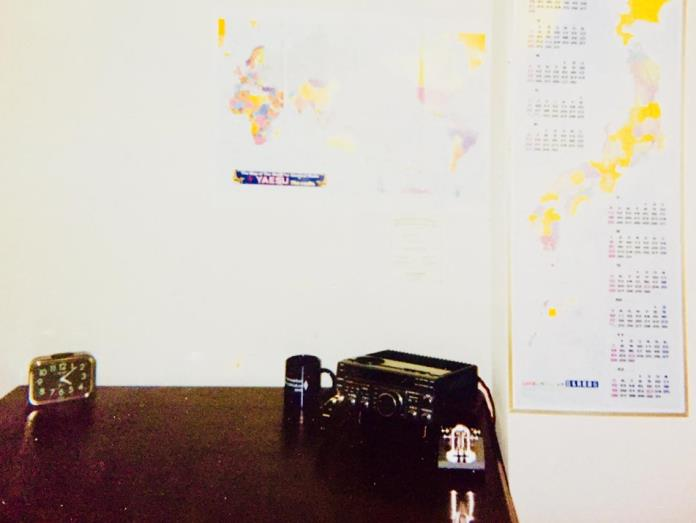 I got interested in radio in grade 6; an elementary school counselor, John Siebel KA0BAI sparked a radio interest by setting up an HF station in the classroom.  He got us on the air.
I earned my novice license in 1986 (KA0ZDH); Mike Marx (WB0SND, CW Ops member) was a neighbor in St Louis, MO, and inspired me to become a better CW operator way back then. I worked toward my 13 wpm code and passed in 1987 (N0IAT). We had a fun group in St Louis, MO, where I grew up.
Later ham influences included Indiana University Physics Professor Dr. Daniel W. Miller, KQ9I (SK), who ran the atomic accelerator/cyclotron at IU.    Aside from being a physics professor, he was the ham radio club sponsor, and the small crew at K9IU radio club at Indiana University helped me along. Thanks to  Pat (ex-WA8YVR now N9RV), also one of the faculty sponsors and members of the K9IU for introducing me to contesting and specifically into CW contesting….woah…even better than field day.     
First time as DX: In 1989, I was an exchange student to Ljubljana (Loo-Bee-Yah-Nah), (former Yugoslavia) Slovenia.   At the time, the so-called Iron Curtain was still up and the cold war was on; the Berlin wall had yet to fall down.   I was able to operate from behind the iron curtain (from the other side) while living in Ljubljana and met a few very kind, technically proficient and interesting hams. I visited a few mega-stations (YU3EA, what is now S56A).
Briefly spent time in Dallas TX and active in the Texas Instruments Employees Radio Club crew (that club call-sign: K5OJI) and there I met N9CO Charlie Ocker (also CW Ops member). He was also a great CW operator and inspired me to keep active in the hobby when work, and other life events of a 20-something could have overwhelmed me and put ham radio into the proverbial back seat. But I stayed at it.  I worked my way up the ranks and earned my Advanced and then my Extra including the 20 wpm CW – that was early 1992.  
 Japan/7J1AOF:   In late 1992 I moved to Japan for a work assignment and quickly got licensed with a "Gaijin" call-sign (all foreigners had 7J-prefix); I was a member of TIARA, the Tokyo International Amateur Radio Club and attended the Harumi Tokyo Ham Fair (Dayton Hamvention equivalent in JA) several times.  
Here's a photo of my shack in JA in 1993.   I used this setup from 1993-1995.   No computer logging back in those days. I worked DXCC from my apartment balcony on 50 watts and mobile antennas. Note the Vibroplex; sold it for a Begali a few years ago.
Taiwan ROC/BV/N0IAT: In 1995, I transferred from Japan to Taiwan and that got me connected to Tim Chen (BV2A, BV2B ..now SK).  Tim was the godfather of ham radio in Taiwan and was huge help to me in navigating the system and applying via the CTARL (Chinese Taipei Amateur Radio League) for one of the first "foreigners" ham radio license for the Republic of Taiwan. I worked almost exclusively CW –mostly on 17M as BV/N0IAT. With a young family, and busy work life I didn't have a lot of time to operate….but I got on the air when I could.   
USA/OREGON(K7JOE): Moved back to USA in 1998 (Portland, OR), changed my call to a vanity callsign, K7JOE. Did some contesting with Rush Drake (W7RM-sk) and a thrill was to win our zone in 1999 CQWW-CW with N0AX, K9JF and several other top gun contesters.
PHILIPPINES/(DU1/K7JOE): In 2000, we moved to Manila, Philippines on another work assignment.   I brought along an Icom IC-751A and was licensed as DU1/K7JOE.  My rig got stuck in customs for more than a year – end result was that I was not very active, I was busy with career, small kids, and life. In 2004 we moved back to the west coast for a few years, and while active, I operated as time allowed.
CHINA/(BY1/K7JOE) 2007; work again moved me and the family to China and I secured an operator's license, but a station license was not available in the People's Republic of China, so only club station operation was possible during that time. Again, I found that I was busy with career, kids, and living life in China.  Ham radio took a back seat for all of those 8 years, plus some, although I did have a receiver at my house and listened from time to time.
CAREER: I hold BS/MS degrees in finance from Indiana University Kelley School of Business.  After 25 years in the semiconductor industry I changed careers and am now a Professor in the Kelley School of Business, Finance Department, at Indiana University. I also mentor the K9IU Amateur Radio Club at Indiana University – we are very active in resurrecting it and getting younger hams / students on the air.
OPINION: I believe CW is/was an essential element of amateur radio – the skill develops good listening and overall important communications skills.   It is nice to know that there are like-minded CW ops who can help preserve this skill and art. I also have found there are few if any hams in their 40's left on CW. I wish there were more. Be a mentor to younger hams, help them get on the air and get active. It's what hooked me and think that's what hooks people into the hobby.
CW Forever…
This biography is what appeared in Solid Copy when the member joined CWops.