CWops# 2994, from Hope , ID , USA.
---->
View on Google maps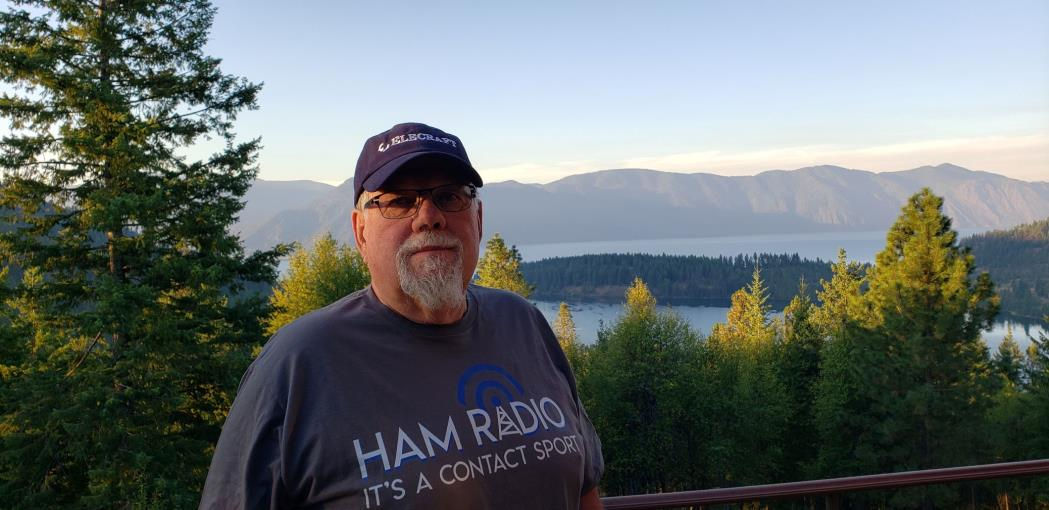 First, a big thank you to CWops for providing the tools and inspiration to become a better CW operator. A special thanks to Jim McDonald N7US for the nomination to CWops. And thank you to all who added their sponsorships to my nomination. I am greatly honored.
In 1964 I received a novice callsign WN6JJB. I enjoyed CW QSOs. I had a Hallicrafters S-76, Allied Radio T-60 transmitter, and an inverted V for 80 and 40 meters. I built a regenerative pre-amp in high school electronics class which really helped with weak signals.
After high school, I attended California Polytechnic University in San Luis Obispo. My major was Physics and I joined Army ROTC. To pay for college, I became a reserve deputy sheriff and dispatcher for San Luis Obispo County.
Upon graduation, I received a commission in the US Army. I went to Infantry Officers Basic course at Fort Benning, Georgia and then to Fort Huachuca, Arizona for Military Intelligence. I spent a year Los Angeles, CA and then 18 months in South Korea, and released from active duty upon return to the U.S.
My job as a deputy sheriff was waiting for me, and I served almost 14 years. I like technical challenges and was fascinated with the emergence of personal computers. I went back to Cal Poly to study Computer Science. I had another 20 years with the county retiring as a senior network engineer.
I purchased a 1948 Stinson 108-3 Voyager in 1992 and fixed it up to fly in the back country. My wife and I flew to the back country airstrips in central Idaho. We knew when we retired, we would head for Idaho.
So, upon retiring in 2004, we moved to Hope, Idaho overlooking Lake Pend Oreille. I flew less and less, and in 2017 I sold the Stinson.
In August 2017 I went the North Idaho Fair in Coeur d'Alene, where the Kootenai County Amateur Radio Club had a demonstration station set up. I knew I had to get back into ham radio. On November 3rd, 2017, I passed the Extra License test administered by Boundary County Amateur Radio Club in Bonners Ferry, Idaho.
By December 2017, I had a new Elecraft K3s, P3, KPA500, and EFHW set up and I was talking on the air. SSB was fun and a very new experience for me. In addition to SSB, I tried PSK31 and FT8, but my experience on CW as a novice kept calling to me. I was struggling with CW and made many searches for CW training material on the net. I found CWops as part of those searches. I took the Basic class in January 2021 and the Intermediate class in spring 2021. My Intermediate class instructor, Roy Godden, put a lot of emphasis on the CWTs. I never thought CW contesting would interest me. CWops provided the encouragement to try. I started with the SSTs and then ventured into the CWTs and I was hooked.
My other interests are sculpting, wood carving, and furniture building.
I know there is so much more to learn, and I am confident I will find the support I need with CWops.
This biography is what appeared in Solid Copy when the member joined CWops.