CWops# 2822, from Portsmouth , RI , USA.
---->
View on Google maps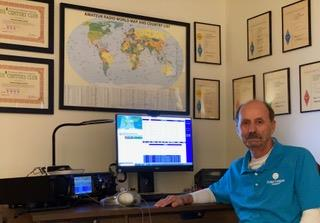 Many thanks to Peter (W1UU) for the nomination and to Jim (N3JT), Gert (PA3AAV) and Hank (W6SX) for sponsoring and giving me the opportunity to be included in this great group of operators and outstanding organization.
My dad was my Elmer. He got me started with a cat's whisker crystal set and taught me the basics. In 1959, at age 13, he took me to the Custom House in Boston where I overcame a severe case of nerves and managed to pass the Novice Class license exam. Some of the highlights of that first year on the air included working EP2BK and 80+ countries on 15 m with a crystal control QRO DX-20, an SX-28 "boat anchor" and a ¼ wave dipole at 17 feet: there were sunspots back then.
In addition to ham radio, I played on the high school baseball and football teams and later on the college golf team. I graduated from Merrimack College in 1968 with a BSEE and went on to work for Raytheon Co. for 39 years in engineering and program management before retiring. I have been married for 47 years to my wife Judy, a wonderful, caring and most patient person (lucky for me!). We currently live on the east shore of Aquidneck Island in Portsmouth, RI which has a clear shot to Europe and beyond (nice!).
I did some multi-multi and single op contesting in the 60's, 70's and early 80's. In 1985 we moved, and with the exception of some FD CW operation with the Newport County Radio Club, I was QRT for 35 years. I got back on the air this past summer and operation is almost exclusively CW. I enjoy chasing DX, "toy gun" contesting and rag chewing. The shack includes a Yaesu FTdx101MP, Elecraft KPA1500 and a 5BTV with 60 radials. DXCC is at 314 Mixed/299 CW and 5BDXCC is in the works.
Other than ham radio, my interest in sports continues as a fan and golfer and for the past 13 years I've been an active volunteer and presently serve on the board of a local animal rescue organization.
My dreams are to make the CW Honor Roll, to be on the "other side" of a pileup in some warm exotic place and to have a QTH with an antenna farm the likes of W3LPL. But most of that won't happen, so I'll be very happy and having fun renewing acquaintances from many years ago, meeting new folks, working new countries and being involved in CWops activities and programs.
This biography is what appeared in Solid Copy when the member joined CWops.