CWops# 1949, from Bigfork , MT , USA.
---->
View on Google maps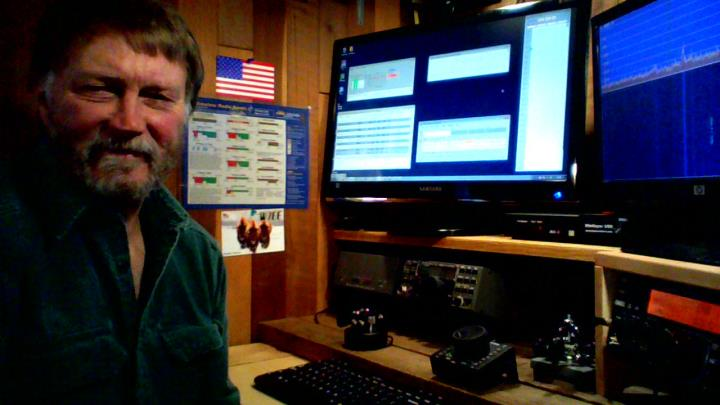 I earned my first Amateur Radio license in the June of 2013. I passed the Extra in July. 
In the 2013 Field Day with no practical experience, I helped the Missoula Radio Club set up. I started out logging with N1MM for the Phone station. The CW station was unmanned. Lots of fun for a few hours and I really was impressed with the hams who were running. The guys sounded so calm and in control of chaos.
I was having a great time but was tiring of the QRM. I took a break and about 6:00 pm, Tom Hellem, K0SN, sat down at the other station and started running on CW. I knew enough to see he was cranking out Q's. I walked over and asked him if I could listen in with a set of headphones. He nodded "yes" and I plugged in. After 20 seconds of listening to a CW, my first time hearing it actually, I was absolutely sure I would learn CW. I'm still plugged in! Tom was kind enough to teach me to about CW and contesting over the last 4 1/2 years. He is the essence of a great Elmer. 
I started working CW in state QSO parties in the fall of 2014. The first contest I was able to run in was the Montana QSO party in January 2016. I actually won that contest. Tom and I operate some of the CW DX contests out of N7IP, Bob Tabke's awesome station. I am also a member of the Big Sky Contesters club where I have gotten to know N9RV Pat Barkey. Pat is one of the great contesters of all time and the previous editor of the National Contest Journal. Pat spent last field day with Tom and I on Union Peak at 6500′ elevation working under my old call sign N7DXT. Other hams who there were N7CMJ, N7OCI and KF7PYJ running the phone station. 
Now I have been invited to join CWOPS. I am very honored with my invitation to such a wonderful organization. CW Forever!!
I worked as an avionics tech in my 20's and them became a corporate pilot until 2004 when I purchased a small window treatment manufacturing company. We made hotel draperies and hospital privacy curtains and many other treatments. I sold that company in 2015 and I am now a full-time ham!
73 and see you in the pileups 
This biography is what appeared in Solid Copy when the member joined CWops.