CWops# 2889, from Origlio , TI , Switzerland.
---->
View on Google maps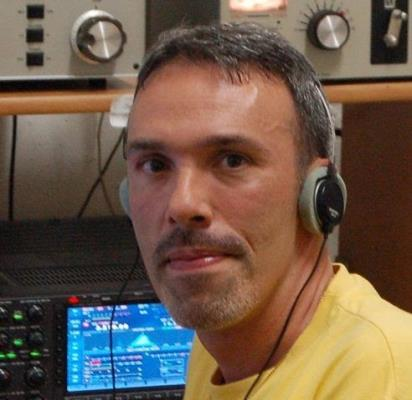 First off, I would like to thank all my CWops sponsors, especially Chris HB9BJL and Fritz HB9CSA/DL4FDM, the HB9ON Radio Club (HB9PUE Mauro, HB9FBM Fabio, HB9FBS Goran and other members) for helping me along this road to better CW. Without their motivation I would never be where I am.
Morse code has opened my borders, it has allowed me to travel to new countries, to improve myself and to be one of you!
I was born in 1966, and I've been an OM since 1985. I love to take in HAM competitions and I have participated in several contests with my personal call, as well as gaining experience outside my country (TM0HQ / LY4A / DD1A / IR1Y / 5I0DX / YU5R / A44A and more). I am a member of the Swiss HST Team. My HST History is detailed here.
I like to improve my skills and compete with what we have at our disposal, considering that our location is not ideal for very important contest results. However, I am proud to say that I have managed to set several records and came in 1st place in many contests. These results are not obtained with big antennas, but rather with a lot of effort and hard work, especially if compared against some of the bigger stations. I do work mainly on CW / RTTY and, of course, SSB.
For over a decade, I served as the president of our local Swiss club and I've been on the committee for more than 25 years.
In the past two years I've been part of an international DXpedition Team lead by the MDXC: 2015 and 2016.
Last but not least, I was invited for the CQWW CW 2019 contest in Oman as A44A with a big international Team! More pictures about my adventure here.
Languages: Italian (mother tongue), English / German (second language), French
Professional : IT Director, TASIS The American School In Switzerland, Montagnola (15years)
Hobby : Bike riding, Table-Tennis, Triathlon, Cooking
For the rest of my life: My lovely girlfriend Vero BOND (SPA Kitchen on Youtube)
Some of my more important achievements:
Selected as one of the referees at the 2018 World Radiosport Team Championship (WRTC) in Germany
Honor Roll Mix, A1OP by ARRL, 8BDXCC, DXCC Challenge, 5BWAZ, WAS, 160m DXCC,2nd Place World Championships in Kazakhstan High Speed Telegraphy 2018 (Morse Runner), 3rd Place World Championships in Montenegro High Speed Telegraphy 2014 (RufzXP) as well as several Championships certificates. 2015/2106 Balkan 3rd place HST. 2016 DTP HST Champion, Numerous 1st place contesting in Switzerland different categories (CW/SSB/RTTY). 3 big DXpeditions (5I0DX, 3W3MD, XU7MDC). HST Swiss Team
Feel free to join and subscribe to my new 2021 YouTube Channel. Everything around CW, High Speed Telegraphy and now .. CWops. Or check out my web pages here and here.
This biography is what appeared in Solid Copy when the member joined CWops.