CWops# 3244, from Alameda Estate , , Gibraltar.
---->
View on Google maps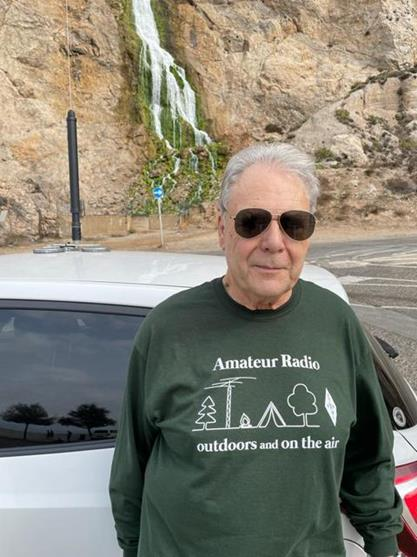 I was born on the Rock of Gibraltar on the 14th of April 1948 and have lived here ever since.
Around the early 1960s I remember my first interest in radio started when my Dad gave me a crystal set for my birthday. I could tune in to 3 different MW stations (induction tuning moving a ferrite slug inside a coil) without using a battery laden transistor radio of the day. At the time it was magic of sorts?
During the late 60s I acquired a monstrous military surplus receiver R206 from a local technician for the then princely sum of £5. Dad was slightly worried as to where it would land, when my brother Wilfred helped me heave it up the stairs to the first floor of 58 Engineer Lane. There followed many years as a SWL, which was when I discovered amateur radio. I was immediately captivated by our treasured hobby, but continued listening to radio amateurs on AM & SSB for many years. In the late 60s I became a member of the R.A.F. Amateur Radio Club and was introduced to the AR88 receiver and KW Vespa transmitter, sometimes being allowed to operate ZB2A under supervision. I passed the City & Guilds of London Institute Amateur Radio examination in 1978. I was given my hard worked for ZB2FK, after passing my 12 wpm CW exam at Cable & Wireless (the then ZDK) in 1979.
Having been literally forced to pass my CW exam in order to obtain my ticket left a negative aftertaste for a few years, till, in the mid 80s my interest in the mode was slowly rekindled almost instinctively. At first it was quite intimidating, but with patience and practice it became my preferred mode as from the 90s. During the years I learned how to pick out one call sign at a time from a group of callers. I keep my QSOs brief so as to give the Rock to as many as I can. Lately I am trying to experiment and get some outdoors at the same time by trying to operate /P from different locations around Gibraltar.
For further details and even anecdotes please see ZB2FK at qrz.com.
My job was pen pushing for my first 5 years as clerk for the M.O.D, but from 1970 I was lucky to work in the Met Commcen for 3 years and then with the Radio Sonde unit of the Met. Office.
Creed Teleprinters in Commcen. Atmospherics cumbersome DF sets, Racal RA17s, Cossor 353 RS Tracking Radar, Brit Mk2B Radio Sondes & German Grawsondes. Retrained to complete my Met Office years at the Main Office under ATC after 1993 when my Radio Sonde dept. was disbanded. My retirement in April 2008 seems like yesterday, yet it is incredible how time flies by faster with every year.
When I was invited to Join CWops I had mixed feelings, but when I received a massive demonstration of friendship from those who sponsored and welcomed me, I felt deeply honoured to join such a prestigious family. Hoping to be worthy, I offer you all, my heartfelt thanks and reciprocal affection.
This biography is what appeared in Solid Copy when the member joined CWops.