CWops# 2493, from Neuenburg , Baden-Wuerttemberg , Germany.
---->
View on Google maps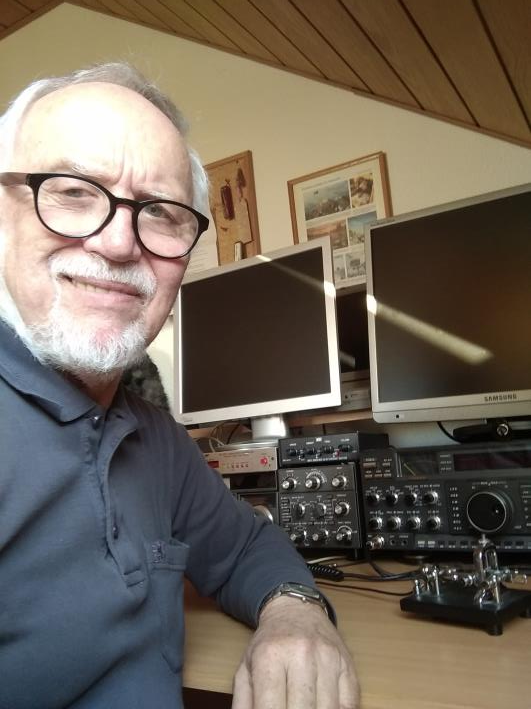 First of all, I have to say thank you to all my sponsors.
I started with CW during my military time. Served the German Air Force from 1968 to 1980.
Mainly worked in CW and RTTY from a radio station located on Sardinian Island, IS0 – (Decimomannu Air Base, near Cagliari). As operator of one the most busy NATO training airports during the cold war we were drilled every day to get faster and faster in CW.
At the end of my military time I made my license end of 1978 and got my call DF9TF.
Some old friends, also ham radio operators, convinced me to get member in Germanys high speed club – called HSC in the early 80s, membership number 968, followed by Netherlands – VHSC (Very High Speed Club #107), SHSC from Belgium (Super High Speed Club #28) and finally EHSC (Extremely High Speed Club #21). To get member of EHSC was a real challenge, because to give and to hear more than 60 wpm is not very easy.
I am nearly 72 years old now and retired. Born 1948 in northern part of Germany, nearly the border to Denmark. Grown up in the heavy industrial area in the middle of Germany.
Stranded in the south western part of DL near Freiburg / Black Forrest in 1979. City is called Neuenburg, located 2 miles away from Rhine river and border to France. 20 miles north of border to HB9. Worked after my military time as engineer for measurement and controls, level- measurement with laser and radar and analytical measurements such as pH, conductivity and oxygen in liquids.
Last 16 years before retirement I worked in the German subsidiary of The Foxboro Company located in Foxborough Massachusetts, approximately 40 miles south of Boston.
Beside my existing hobby, I like to follow the traces of the old gold diggers in the western part of USA (NM, AZ, UT, CA, NV). Went very often (more than 30 times) to the old gold rush areas for gold panning. I like old gold rush towns like Wickenburg, Jerome, Oatman, Virginia City, Placerville and many more.
Victim of CW and gold panning is my wife Baerbel, because after start one of them I can't stop. Big advantage is that she understand this illness. I prefer to work on lower bands 160/80 m. Meanwhile I worked 285 valid countries on 160 m and 319 valid countries on 80 m which is very time consuming. Worked all 340 valid DXCC countries of 340, but in CW 339 only, because P5 is still missing.
This biography is what appeared in Solid Copy when the member joined CWops.