CWops# 3012, from Calabash , NC , USA.
---->
View on Google maps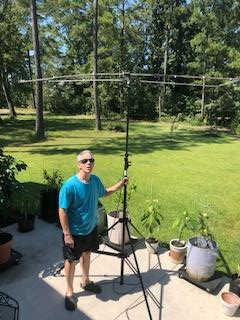 Hello to the CWops community. It's great to finally become a member. I remember listening to the CWTs and other CWops events and thought I could never be that good. But I kept listening and practicing and finally started to participate in the summer of 2020 and I haven't stopped. I want to thank the many CWops members that offered to sponsor me in the past. I finally decided to join and hopefully I can contribute in some meaningful way to the CWops programs.
I am married and have two grown children. I retired in 2015 and moved to Calabash, NC in 2017. My main hobbies other than ham radio are kayak fishing, reading, listening to music and select podcasts, and trying to spend time with the kids.
I was introduced to CW in 1975 when I entered the U.S. Navy as a CTR (Communications Technician – Collection) and was sent to Pensacola, FL where I learned CW and spent the rest of my enlistment in Maine and Okinawa. After leaving the Navy I spent the next two years learning basic electronics and radio communications theory at a technical school in Pittsburg, Pa. These two skillsets plus my CTR background helped me get a telecommunications job with the federal government in 1983.
During my 32 year career I did ham radio on and off, mostly CW ragchewing. The job and its traveling requirements and family commitments took precedence. In 2004 when I no longer had to travel I really started getting active. I purchased an ICOM IC-718 and a SignalLink USB and started playing more with CW and the digital modes. Then I started participating in contests and joined some clubs where I continue to be active. I have been very active in contesting since retiring in 2015 and became a member of the Potomac Valley Radio Club earlier this year.
Currently I am studying for my Extra Class license and trying to upgrade my antennas. I built a 6 m and 10 m Moxon antenna and am in the process of building a 20 m Moxon. Since I live in an HOA community I have to be as stealthy as possible. I recently bought a 25 foot carbon fiber mast and tripod so I can quickly put my antennas up and take them down.
I am also a member of the Town Of Calabash Emergency Management staff. I helped our small group of hams establish HF communications capabilities at our two local Emergency Operations Centers.
I hope everyone stays safe and healthy and see you all on the bands.
This biography is what appeared in Solid Copy when the member joined CWops.