CWops# 3376, from Sheffiled , Sheffiled , UK.
---->
View on Google maps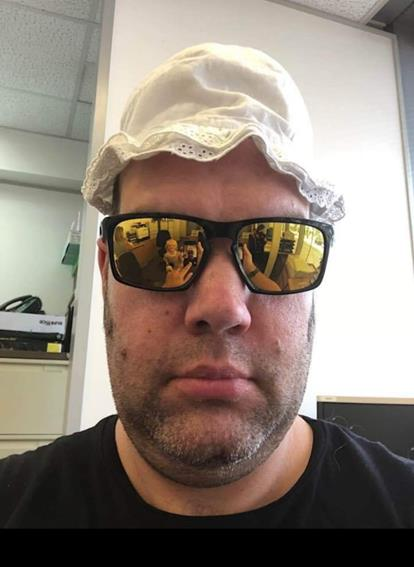 Two main things to know about me; I am from Yorkshire, the county known as God's own country (with good reason) and I can rock a hat, any hat. More on why I am now known as Yorkshire to come shortly and my picture is proof of my hat wearing ability.
So to matters ham. I was first interested in ham radio at around the age of 13 or 14. I am not sure where the interest came from, my father wasn't into the hobby and I did not have any other relatives or friends who were. However, interested I was but I was put off by having to learn CW (as was the licence requirements back then) and the cost. As a teenager with very limited funds I thought an actual radio would have been beyond my means and I never thought I would be able to learn CW. So I did what a lot of teenagers did back then and bought a CB. Which I didn't use much at all…
Fast-forward 20+ years and I was browsing Amazon for 'stuff' and saw the price of Baofeng HTs and thought, 'wow, they're much cheaper than they were when I was a teenager. I could actually buy one of those' and promptly researched ham clubs in my area. Pretty soon I was attending meetings and studying for my Foundation licence.
Licence acquired (Sept 2013) and I quickly realised HF was where my interest was. I bought a secondhand Kenwood TS430 and I was away and hooked but I still had no desire to learn CW. Over time though I did very sporadically try and learn 'the code' and I'd get a few characters under my belt and then drift away, forget everything I'd learned and then start again many, many months later, rinse & repeat.
In 2022 though I decided to make a real attempt to learn and kept seeing people mention the CWops Academy so decided to sign up for Beginners and had my first class 2 May 2022. There were three Dan's so to keep things clear, one got named Oz, one DL and I got 'Yorkshire'. Don't know why, I had only mentioned I was from there half a dozen times.
My first QSO followed on 15 June 2022 and that was it, I was hooked on CW. I went straight onto Fundamentals then cleared off Intermediate and have now graduated from Advanced as a full CWops member. I never thought I'd get this far and I am utterly delighted to have done so. I cannot thank Shawnna KE0LUA, Bill W0EJ, Kit G0JPS and Keith G0HKC enough nor say enough good things about CWops.
I still have many goals I want to complete but can now contest comfortably and just about hold a decent QSO. My next challenge is to be an Advisor, help others to start their CW journey and I have signed up for the September Beginners classes. I just hope I can be half as good as my advisors have been…
This biography is what appeared in Solid Copy when the member joined CWops.