CWops# 3118, from Silt , CO , USA.
---->
View on Google maps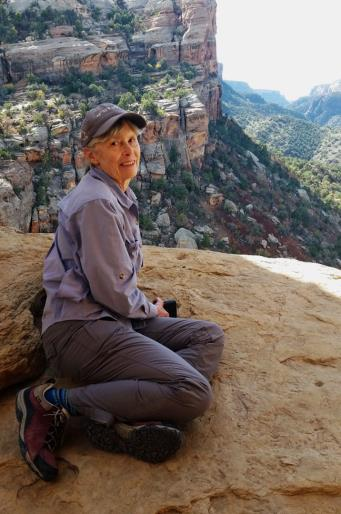 I am grateful for the nomination from Phil, NE0S, our insightful and supportive CWA advisor. Many thanks to him, to my CWA classmates, and to those who sponsored me.
Morse code runs in both sides of my family. My Danish grandmother Olga was a skilled telegrapher. She came to the U.S. in the early 1900s and worked as an instructor in the Western Union training center in San Francisco. There, she met my grandfather Ed, another telegrapher. Ed sent real-time news reports and sports commentary from baseball games, which he loved. As professionals, my mother's parents achieved a level of Morse code skill that is surely beyond my abilities, but I am fortunate to continue the tradition in my own way.
When I was around six years old, my father became licensed as WA4LKX. I enjoyed listening to the vinyl records he used for code practice. I got my Novice license at age 15, and my General one year later. I was the only girl in the high school amateur radio club.
After growing up and leaving my parents' home, I was QRT for many years. Nevertheless, I kept renewing my ham license because I was proud of my accomplishments in passing the tests. One day in 2003, three years after moving to western Colorado, I received a phone call from Larry, K0CL—someone I did not know. He was reaching out to local licensees he had found in a database. He was brimming with enthusiasm for ham radio.
Larry became a wonderful Elmer, helping me to find used equipment that was either free or cheap, including a 70-foot tall Rohn 25 tower. My husband Mike, who is not a ham, enjoyed the adventure of erecting the tower and helping me to install the antennas that I built or refurbished. After another nudge from Larry, I studied for the Extra exam and passed it.
My code skills were rusty after decades of non-use. I worked to get back up to 15 wpm, which had been my plateau as a teenager. One summer at Field Day, Stan KR7C told me about CWops. I was excited about the opportunity to boost my skills in CWA, but I had to wait several years for adequate internet access to come to our neighborhood. The Advanced class I have just completed was inspiring and motivating.
Mike and I met on an eleven-day wilderness canoe trip in the Yukon Territory. We also enjoy hiking, sailing, and fishing together. I am mostly retired, and I love to ride my bike on the county roads in our rural area. While I wait for the return of warm cycling weather, I am learning how to build a QRP transceiver kit. I look forward to working other CWops soon.
This biography is what appeared in Solid Copy when the member joined CWops.