CWops# 2918, from St. Peter , MN , USA.
---->
View on Google maps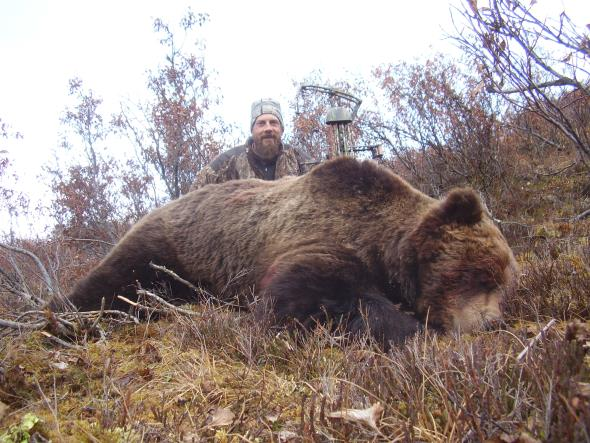 First off a round of thanks to Paul K4JAZ, Phil W2OZB, Tom WA9CW and Steve WD4CFN, and Serge KK7RR; my instructors in the Level 1, Basic, Intermediate, and Advanced classes, respectively.
I reside in my hometown of St. Peter, MN on a small farm outside of town up on the bluff with my wife Malissa, a pile of chickens, guinea hens, 2 turkeys, 2 dogs, and a cat. A stepson, his wife, and my 2 little granddaughters (future hams I envision) live just over the hill from us. I am employed with MnDOT as a highway maintenance worker and snow plow operator.
My hobbies include everything outdoors. We tend a rather large garden, while hunting and fishing take up most of my free time. That is what drew me to Alaska after graduating from Gustavus Adolphus College. In 2000 I packed up my truck and spent the next 14 winters in Fairbanks in a small cabin I built 16 miles out of town without running water. Hunting, trapping, and fishing again took up most of my time, working when I needed to as an arborist, construction worker, and laborer (Local 942) up in the Prudhoe Bay oilfields and along most of the Alaska Pipeline.
My exposure to Ham radio was one out of necessity. My trapline was fairly remote by snowmobile with no cell service and I would often camp out on the 'line for weeks at a time. My Elmer, Gary NL7Q packed up one of his Spilsbury SBX-11 radios for me to take with me. Well, after using "emergency communication" (i.e. pirating…) for a few weeks I made up the plan to get my ham radio license. I earned my Technician license and KL2SX callsign in May of 2009. A month later my General, the next year my Extra.
I found it amazing to sit in my cabin at 40 below zero outside, and I could talk to people all over the world. DX became a passion, and once I discovered contests I was hooked. The best was being in hunting camp or on the trapline listening to Coast Guard Kodiak talking to the ships out in Bristol Bay, and the Trapline Chatter on the Canadian side, listening to all the folks in the Bush call in each night. So, the next thing was CW. From 2011 I worked on learning code by myself and some online reading. I found CWops and the academy in 2018 and from there it has been A LOT of work to get where I am today, finally a CWops member! I am pretty proud to say that.
This biography is what appeared in Solid Copy when the member joined CWops.