CWops# 2201, from Ringoes , NJ , USA.
---->
View on Google maps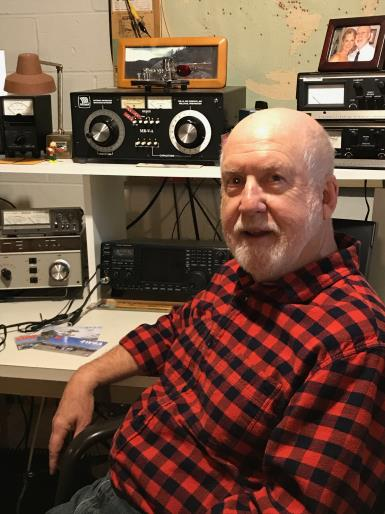 Glad to be CWops Member 2201! Thanks to my long-time friend and fellow Frankford RC member K3WJV, Bill Stravinsky, for nominating me! Billy and I both grew up in the Philly area.
I look forward to meeting many CWops members in the CWTs!
I received my Novice call KN3LJZ in March 1960 when I was a freshman in high school via the school radio club. CW came easy for me and I upgraded to General about 6 months later. I still have my ARRL CP 35wpm certificate hanging up in the shack.
I graduated as an EE from Drexel Uni. in 1968 and moved to New Jersey to work in the Integrated Electronics Div. at Fort Monmouth. I upgraded to Advanced and got a 2-land call, W2IFK. Later I upgraded to Extra and was issued KQ2O which I held for many years. In 2006 I applied for my current vanity call K2CJ – my first and middle initials as well as nickname.
My work career after Fort Monmouth took me to three RF/Microwave semiconductor companies where I held positions in Technical Sales, Marketing and Key Account Management. I retired the first time in early 2013, returned to do some consulting work with European accounts, and then retired again for good in 2015. Currently I work part-time at Unionville Vineyards, a mile walk from my QTH. I can see my antennas from the winery crush pad!
During my career I had the opportunity to visit more than 40 countries and operate from DL, G and 4U1ITU. DXing and DX contesting have been my priorities from the get-go, preference for CW. I am on the DXCC Honor Roll for Mixed, CW and "Phone" and have 160M DXCC all CW.
Here in beautiful Hunterdon Co. NJ I have a modest station with IC-756ProIII + TenTec amp, Yagis for 10 (40'), 15 (50' ) and 20 (60'), Butternut HF2-V vertical for 40/80 and an old W9INN inverted Vee for 160. I use a Begali Simplex Mono paddle and Winkeyer. My XYL Betty and I have been married for 43 years and we now have a 9-month-old grandson to whom I plan to introduce Morse code once he can say dit and dah!
This biography is what appeared in Solid Copy when the member joined CWops.