CWops# 1994, from Derwood , MD , USA.
---->
View on Google maps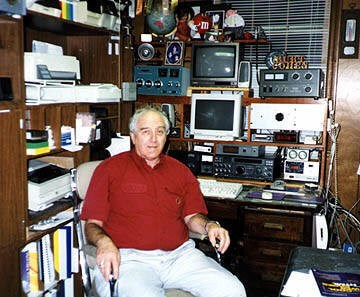 I am proud to become a member of cw ops.
I am retired and a Florida snowbird. I get together for breakfast once a week with N3JT, N3AM & WA8VSJ.
I was first licensed in 1954 as WN9DIK in Fond du Lac, Wisconsin. Got my general a few months later.  I always loved CW and it came to me very easily.  I was active until I graduated high school and ended up in Washington, D. C. 
I changed my call to W3CRE which I held for several years before getting my present call, W3GG.
In 1978, I bought my dream home in Derwood, Maryland on 2 ½ acres on a hill.  I put up a 120 foot tower with a 3 element 40 and stacked beams.  From this location, I worked every country available and  have DXCC 1. I was very active in contests and won several of them both as a single op and multi/single.  I have 9 band DXCC and 5 Band WAZ.
In 2004 I retired from WMAL radio in Washington after 39 years and became a Florida snowbird. My tower came down a few years ago and the station in Maryland is only an all band vertical.  I do operate in Florida using a FLEX 6300.
This biography is what appeared in Solid Copy when the member joined CWops.