CWops# 2146, from Youngstown , OH , USA.
---->
View on Google maps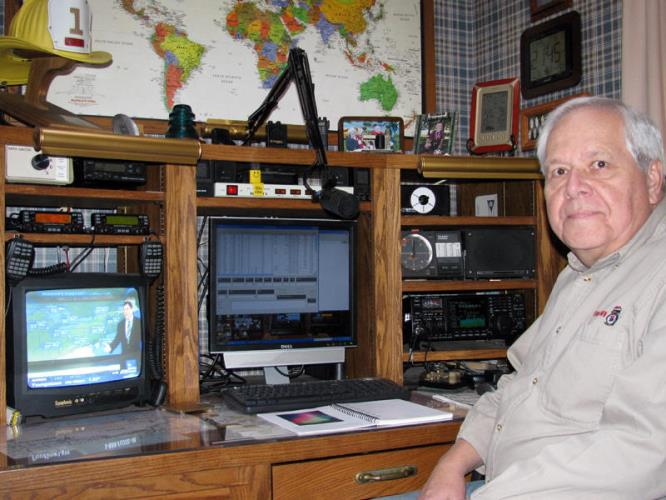 Before I start, I would like to thank CWops for having me and to those who sponsored and supported me for membership. I only hope I can return the favor one day.
I was interested in things electronic at a very early age. I think the first thing I got was a 'wired' pair of Walkie Talkies (which later moved to a wire stretched from house to house for an intercom with a buddy). I know I went through many "electronic kits" that ranged from lighting a lightbulb to ringing a bell, to making a code oscillator or even a crystal radio. As time went on a wireless bug hit when my dad brought home two CB radios in the very, very early days of CB… when a 108" whip was the only antenna for the car and a 108" ground-plane for the house… and no one even knew what it was.
I was first licensed as a Novice in May 1962 as WN8DUX at the ripe old age of 15. I became interested in ham radio through a High School buddy, Bill, WA8AGV (SK). Bill invited me to attend a Boardman High School Radio Club meeting one day (which I never had realized even existed) and as they say… "the rest is history." I'm not sure why but I decided to go through each of the licenses one at a time, so Novice to Extra took a little longer than for some. Ironically, I think it was CW that slowed the process because at each plateau, 5, 13, 20 wpm I thought I'd never make it… but did. And glad of it!
Sometime in 2013 I discovered QRP. The vast majority of the radios I had through the years were 100-watt rigs. I can't say that I ever came close to wanting a linear, but I can't say I ever thought about going to 5-watt rigs either! (Just the other day I had a great QSO at 400 mW to Oklahoma and I would have bet against that too!). I think I would put my Elecraft KX-3 against any of the rigs I've ever had on receive. And after WAS at least 3 times and DXCC on QRP it says a lot for transmit as well.
Along with QRP came setting up in area parks, lakes, and even just the back yard allowing enjoying the outdoors and ham radio at the same time. What could be any better? "More with less!"
Professionally I'm retired from Boardman Local Schools as the Supervisor of Technology/Information Management. This after a 20-year career with BANK ONE, NA, formerly know as The Union National Bank of Youngstown. I started there as a Loan Officer and left as Vice President of all the branches in our tri-county area.
How did I go from banking to schools? After taking on a computer project at the bank I got into computer programming and database management. When the State of Ohio started an Education Management Information System (EMIS) that tracked students, grades, courses, student movement between districts, it was a perfect fit for a second career.
Probably the greatest joy is my 50-year marriage to Sallie: she knits, I radio… and CW with earphones means she doesn't have to listen to all the noise that SSB brought on, and we both can enjoy our hobbies at the same time in the same room! We have three sons, their families and four fantastic grandchildren! Only one of our sons followed me into ham radio… WA8YLZ.
This biography is what appeared in Solid Copy when the member joined CWops.