CWops# 3070, from Francis Creek , WI , USA.
---->
View on Google maps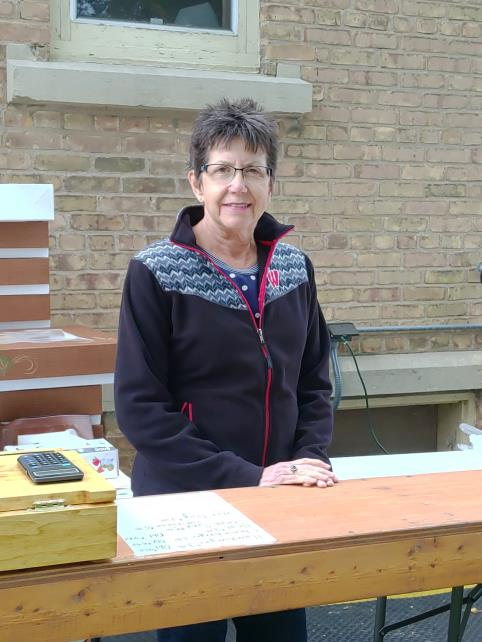 First of all, I'd like to give a big thank you to Bud AA3B for nominating me and to Anthony AB9YC, Jim N3JT, Anne N1YL and Max VE6RST for sponsoring me.
I am a late bloomer to amateur radio, first licensed at the age of 57, after a friend – Mike KE8IL – suggested I give amateur radio a try. Growing up in Northeast Wisconsin, my "spare time" growing up was spent baling hay and feeding the cows. I didn't know that ham radio was still a thing! I was looking for a hobby to ease myself into retirement and keep my brain busy. Amateur radio has certainly done that, and CW – while challenging – has given me opportunities to compete against myself – and others – and strive to improve my operating techniques.
My CW journey started on a Thursday Echolink YL Op Net when Ruth KM4LAO mentioned that, after taking several CW Academy classes, CW was her favorite mode. I was looking to expand my amateur radio horizons, so I signed up for Level I with Dallas K1DW, followed by Level II classes with Mark K5GQ and Al K0AD. I then went on a bit of a CW hiatus since I was completing my 2nd round of Level II in the midst of retiring and training a replacement for my position as Bookkeeper/Payroll & HR Specialist at our local public school district.
In June 2020, I was a guest on HamNation Episode 456 – Hams Gone YL'd 3.0. Fellow guest was Leann W4LEA, who spoke about the Long Island CW Club. I joined LICW and took in a few classes at the intermediate level, since I had a good base from the CW Academy instruction. We were encouraged to GET ON THE AIR so I became more conscientious about doing just that. I warmed up a bit with K1USN's SSTs, tested the waters in the CWTs and found I really enjoyed the faster pace. Also keeping me motivated are my weekly practice sessions with (fellow!) CWops members Tom WA9CW and Cathy W4CMG. I have recently started participating in QRP events and enjoy the challenge of chasing Foxes and Zombies at 5 watts.
I belong to several amateur radio clubs, including SMC (Society of Midwest Contesters), Long Island CW Club where I lead a Monday night YL Open House and YLRL (Young Ladies Radio League) where I serve as DX Treasurer. I enjoy operating special event stations – NB9QV aboard the USS Cobia WW2 submarine docked at the Wisconsin Maritime Museum in Manitowoc and W9ZL at the EAA AirVenture in Oshkosh, Wisconsin. In my spare time, I enjoy playing Mah Jongg and ukulele, running, and pickleball. I am looking forward to my next HamVention where I will be adding to my CW key collection! Hope to see you all there!
This biography is what appeared in Solid Copy when the member joined CWops.