CWops# 2827, from Mars , PA , USA.
---->
View on Google maps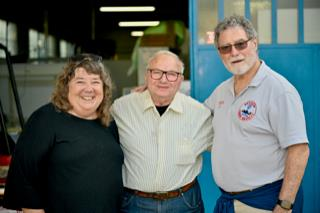 A recent graduate of CWA, and now a proud member of CWops #2827. My main passion for CW is chasing DX and contesting. After the 13 Colonies event last year I received an email from Pete W1RM suggesting that I might benefit from CWA. I didn't realize how much better I would be after taking a class with KK5NA, or how much more I aim to do. Thank you Pete, Joe, Bruce and my classmates. It has been fun!
First licensed in 1963 as WN2LWE then WB2LWE, the Army gave me an opportunity to operate AB8AAK in Quang Tri Vietnam. Returning I acquired WB6OID. Back in NY I passed my Extra and became N2MA. Jeane & I have traveled quite a bit scuba diving and have spent a fair amount of time in the saddle of a Harley. My career has been in sales & photography having my own custom frame shop for 13 years.
Work brought me to Pittsburgh in 1981 and currently live in Mars PA with my wife Jeane. I am a member of Skyview Radio Society and participate in their multi-multi contests. I am also the Activities Director for the North Hills ARC and participate in their activities. Events such as 13 Colonies and last year the 100th Anniversary of the first commercial radio broadcast from KDKA.
My station consists of Icom IC-7610, IC-7300 and ID-4100. Antennas Butternut HF-9V & HF-2V. & a TA-34XL beam
This biography is what appeared in Solid Copy when the member joined CWops.