CWops# 3427, from Bishop , CA , USA.
---->
View on Google maps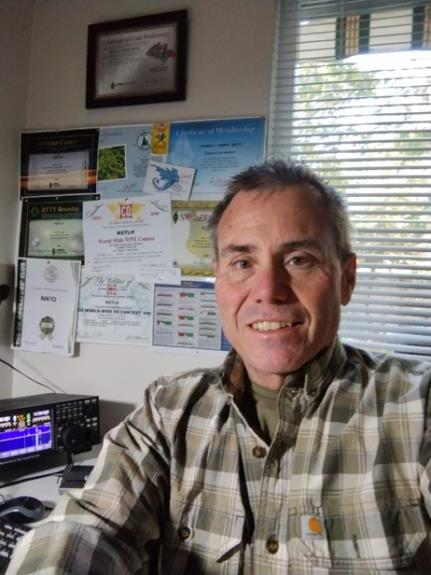 Unlike many CWops members, I am not a life-long ham, and I am not technically oriented. Like a lot of kids, I was interested in radio, but like a lot of kids, I lacked the focus to do anything about it. Life led to a small-town law practice, and to the last ten years as the elected District Attorney in Inyo County, California.
I've always enjoyed outdoor activities, but as retirement was looking like something that was really going to happen, I started thinking about "indoor" hobbies and remembered amateur radio. When I learned that you didn't need to pass a code test anymore, I thought that I would try. I got my Tech license in the fall of 2019, and quickly moved to Extra in 2020.
While I found a great indoor hobby, I discovered that it is a great outdoor hobby, too—I discovered Parks on the Air, and then Summits on the Air. That's a big reason that I wanted to learn CW—all the cool SOTA and POTA activators run CW. Given that I live in a place surrounded by mountains, SOTA has become my big outdoor activity.
I was also drawn to CW because it just seems special, and maybe a little mysterious. I am not in the "you're not a real ham if you don't know code" camp, but the operators who do know code seemed special, and I wanted to try to be one of them. I am also impressed by the camaraderie and good nature of CW operators.
I am very grateful to be a CWops member, but I am just starting off on a long CW journey. CW Academy has had a huge part in pushing me along the road. Big thanks to my Intermediate Advisor, Mark K5GQ and co-Advisor Ken KD2KW, and to my classmates Jerry K0ES and Rob AE7AP, and my non-classmate but study group member Bill JP3REM.
Continuing huge thanks to my Advanced Advisor Joe AA2IL (who nominated me for membership), Co-Advisor Jim (aka "Muley") N7AUE (one of my sponsors), and classmates Justin W0ABE, Jeffrey AE5JT and John AC7FX. Thanks also to Doug, KR2Q, for his sponsorship, and a very special thanks to Hank, W6SX for his sponsorship. Hank has been amazingly encouraging and helpful to me. I will always play radio "exuberantly" because of his influence.
I owe a lifetime of gratitude to my wife Nancy, but as it applies to this bio: I had a big speech ready to give as to why I really "needed" to get an Elecraft K4, but when I started to give it she just said "life is short, we have the money, so get the radio". So I did. Best spouse ever.
In addition to SOTA and POTA, I also enjoy low power contesting (CW, SSB and RTTY), and am a member of the Northern California Contest Club. Given other time and life commitments, I'm a fairly "casual" contester. I also have fun hunting DX.
And retirement isn't too far off. When that happens, you'll likely be hearing me from our home overlooking the Columbia River in Astoria, OR. Or from some summit . . .
This biography is what appeared in Solid Copy when the member joined CWops.