CWops# 3421, from Suwanee , GA , USA.
---->
View on Google maps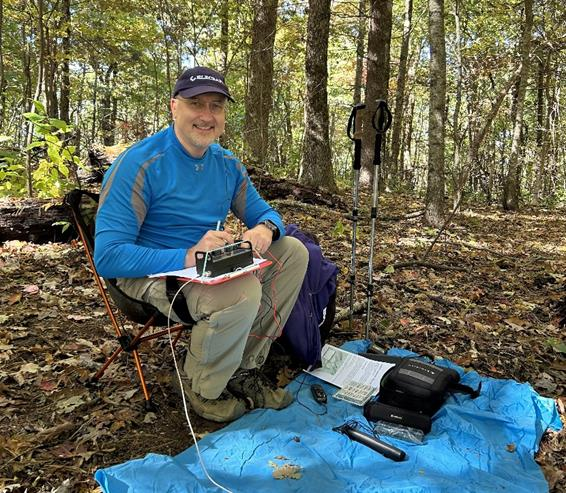 My ham journey started with a coincidence. I was preparing for a trip to Philmont Scout Ranch, New Mexico, and asked my good friend Valdas, 5B4AOF about a good way to communicate in case of emergency. His answer was to get licensed in ham. Six months later, I got a Technician license in 2017, and my first HT – ready to hit Philmont Scout Ranch. Long story short, there was a minor emergency where I was able to use my HT to help the boy scouts in wilderness by getting medical help. Diving deeper into my ham hobby and in order get more "freedom on the air," I got a General and an Extra license in 2020.
My love of electronics goes all the way back to when I was growing up in Lithuania. I liked soldering and assembled numerous electronic schematics and have always liked phones and telecommunications. Professionally, I am a radio frequency engineer working for one of the biggest wireless well service providers in the US. I currently live in Georgia (Northern part of Metro of Atlanta) with my wife, my daughter, 24, and my son, 21.
I quickly understood that, living in a HOA community, there are big limitations as far as having tall and towering antennas. Soon enough, I learned about POTA and SOTA programs and was able to combine my new hobby with my love of being outdoors and enjoying hiking in nature.
Further exploring my hobby, I understood that Morse code is the way to reach other ham friends further using limited antennas. Learning Morse code is like another language needing a lot of dedication and effort. I joined CW Ops Beginner and Basic classes but still I was shy to get on-air. I had no confidence while trying to enhance my knowledge in CW.
In 2021, I joined a local North Fulton Amateur Radio League's club and met a lot of friendly and knowledgeable hams. The club has weekly "CW Chat" sessions led by Steve, KO4VW. By his encouragement and help, he pushed me "off a cliff into the air" to participate in SST sessions. Later that progressed into MST and CWT sessions. A year later, I was nominated into CWops by Hank, W6SX, and sponsored by George, NE5A, John, WE4AUB, Steve, KO4VW, Chad, N9UNX, Jim, N7US, and Douglas, KR2Q. Thank you all for your support and welcoming me to CWops. I really appreciate being a part of a CWops family and can admit there are endless opportunities and no limits to becoming a good CW operator.
This biography is what appeared in Solid Copy when the member joined CWops.