CWops# 2254, from Ahrensburg , Schleswig-Holstein , Germany.
---->
View on Google maps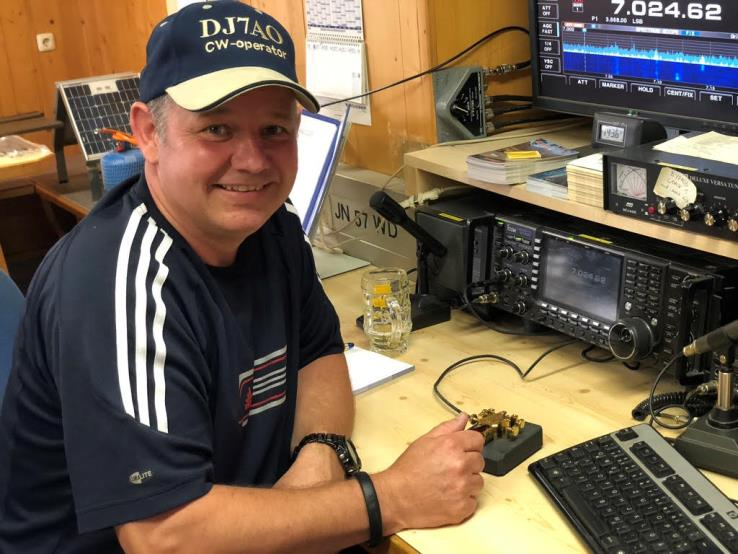 After some decades of CW practice, I stumbled over the CWT contest and enjoyed it with working lots of G-stations a couple of weeks ago. So, I found out how to join the CWops and asked some CW friends to nominate and sponsor me. This was easy and I thank everyone for the votes.
Now I'm a member with the number 2254.
As a pupil in the age of 14 years I got my license. All the years before I was fascinated about the wireless communication and listened shortwave with an old tube radio. I became a member of the local ham radio club and visited a CW course. I decided after getting my license to make the first contact in CW. 1981 I made my first call with an old Trio TS-510 and a simple dipole and a straight key. The first CQ on 20m was answered by a station from Moscow. Wow – what a feeling in the time where letters were written and no cellphones were available. The radio waves made contacts via the Iron Curtain possible.
My first callsign was DL5HBS and it was terrible for CW – especially in DXing and contesting. So, I managed to change the call to the present one.
I've been a K9 dog handler for protection and explosives in the police. Today I'm working in the local crime scene investigation. I'm the chairman of the local radio club in the district Hamburg – living between Baltic and North Sea. I like to activate islands and lighthouses and, in the holidays, SOTA in the Austrian alps. I'm also a member of the HSC, AGCW, CTC, RTC, GDXF and the Int. Police Radio Club. For my activities I'm using a K-line, KX3 and QCX – an OptiBeam 9-5 and several wire antennas. Other interests are mountain biking, climbing my old STEYR tractor from 1948 and my German sheepdog. You`ll find more info about me at my website http://dj7ao.de
Thanks for the admittance in the CWops club and I hope to see you on the bands.
This biography is what appeared in Solid Copy when the member joined CWops.