CWops# 1863, from Muskogee , OK , USA.
---->
View on Google maps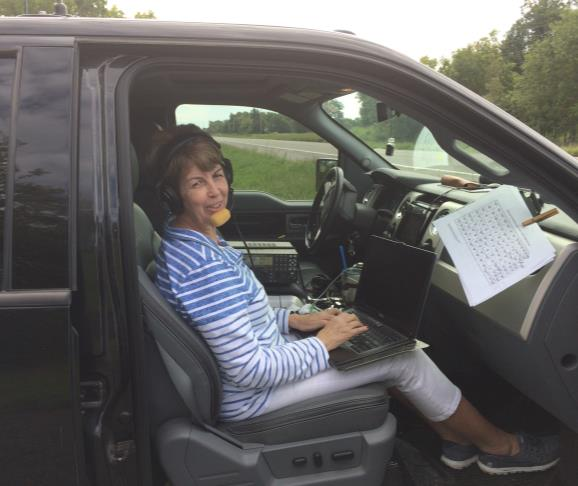 Being first licensed in the summer of 1976 at the age of 16, my , dad, brother, and I all took our novice test together and impatiently waited what seemed an eternity for the mail. About three weeks later dad and brother received their calls. Although mine didn't come I at least knew it would be one side or the other of WN5TGZ and WN5THA and spent that night sending my "new call". Three weeks later and still no call my dad telephoned the FCC and explained the situation.  Within a couple of days I was officially WN5AB! As this was in the time before vanity calls, it quickly became painfully clear that no one was going to work me, as I must be a bootlegger!
My brother WN5SVV who lived across the pasture got on the air with me. After a question and answer session with me explaining the situation (all a set up) I was finally off and running. The FCC in all of its infinite wisdom realized the error of their ways and 3 days later I received a new call…WT5NAB for temporary. WN5SVV and I were back to square one. Finally making Q's again, the following day I received WN5UQH. Eleven months later and several trips to Dallas TX (about 250 mi from home) to test in front of the FCC, I received my Extra class and my current call of N5KW.
I have now been on the air 41 years, 37 of those married to Connie, K5CM. We have one daughter, Melissa, N5KK (my dad's old call) whom we enjoy operating with.
In the early years of my radio career I was very active on 144 MHz, working the 48 continental US on varying modes of propagation and completing WAS with the use of Moonbounce. On 50 MHz I enjoyed chasing DX and completing DXCC. On the HF bands you can find us operating contests, state QSO parties from the mobile, and of course CWT's along with many other modes. Amateur radio has provided me the opportunity to operate from PY5, Brazil and VP5, Turks & Caicos. Running the pileups on phone with the female voice is a lot of fun.
When not on the air, I am an avid bowler and enjoy spending time on the many Oklahoma lakes.
This biography is what appeared in Solid Copy when the member joined CWops.