CWops# 1895, from Mildura , VIC , Australia.
---->
View on Google maps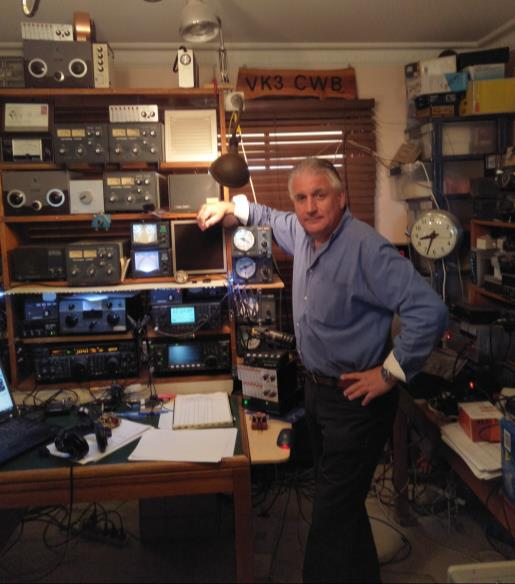 My name is Maurice, but most people know me as Maurie or "Moz".
"Moz" has been a lifelong nickname that has stuck with me, and I use it on CW.
I live in Mildura which is about 360 miles North West of the capital city of Melbourne. It is considered the far north west of the state of Victoria. I have been a ham for 39 years.
I came to this rural township in 1983, as a 24 year old from Melbourne, embarking on a new career as a young high school teacher.
By the time I left Melbourne in 1983, interference to radio and TV was already becoming a problematic issue, mainly due to the vagaries of analogue television and the public perceptions of the urban dwellers who lived next door to ham radio operators.
Hence; very early in my ham career, I made a decision to get out of the city and go to the country.
I went to Mildura, ham ticket in hand, dreaming of DX from a "radio quiet" countryside. At the time, my job seemed secondary to my new ham radio country location.
Thirty four years later, I am still here, and have enjoyed amateur radio every day since coming here.
I was very fortunate to meet some incredibly helpful and supportive hams early in my career. These men were happy to take me, the new kid, under their wing, and show me how it was done.
VK3BRC (SK), VK3RJ (SK), VK3BNO (SK) and VK3IM, just to name a few introduced me to the world of CW, the skills, the techniques, the culture, the knowledge base, and the etiquette. It left an indelible mark on me, and it remains with me today.
While I consider myself a CW operator, I also have the occasional foray onto SSB, where I catch up with some of my long time ham radio friends who I have been talking to for over thirty years. (W5RH, AA2NN, KB5ION.)
I very much enjoy having a conversation on CW, and these days this is becoming increasingly difficult. For most of my ham life I have held regular CW schedules. In my early years it was with Larry, W1HMD (SK) and these days it is with my long time CW friend Rod K5BGB. Rod and I catch up twice a week on CW, for a half hour long DX rag chew.
I left high school teaching many years ago, and studied further, and became a practising psychologist, consulting both to the education systems and to industry. These days I have a small private practice and ham radio and CW remains my sanity saver.
In the 1980s and 1990s I gave countless hours of my free time to supporting the local ham radio club and the Wireless Institute of Australia (W.I.A) where I held official posts and taught the local would be hams Morse code and radio theory.
Today, all my antennas are self-made, or rebuilt by me. At present I have three main towers, and three 75 foot masts, all of which are a one man operation, designed and erected by myself.
I frequent most HF bands and these days very much enjoy 30, 40 and 80m.
I feel honoured to be part of CW ops and a huge vote of thanks to those that promptly sponsored me. I look forward to talking to you on air from Mildura, Australia.
This biography is what appeared in Solid Copy when the member joined CWops.