CWops# 2883, from Plymouth , MI , USA.
---->
View on Google maps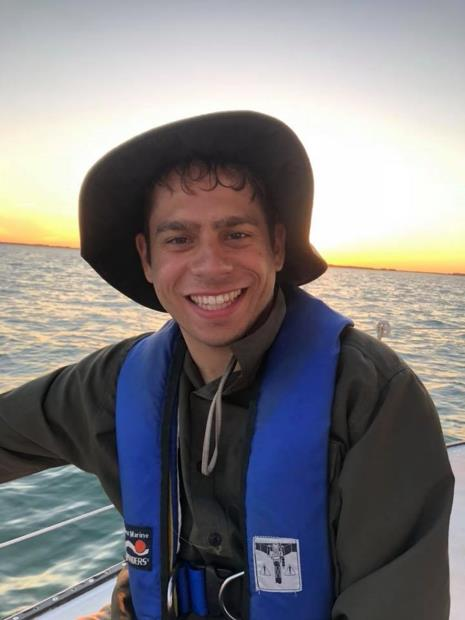 I'd like to thank my fellow Long Island CW Members and the CWops members who sponsored my nomination (WB0JRH, N1CC, W6SX, K3ZGA). I earned my license in 2015 while studying at the University of Alabama, W4UAL, and started learning CW on my own in 2016. While studying at UA, I played clarinet in the Million Dollar Marching Band. I then got to study abroad in Sevilla, Spain where I connected with hams in the EA7URS and EA7RCS clubs. In 2017, I first took the CWA level 2 and 3 classes. While visiting the KPH land to ship telegraph station in 2018, I was able to pass the commercial radiotelegraph test. This was vey exciting as I then got to key the commercial rig on the SS Jeremiah O'Brian, a liberty ship in the San Francisco Bay the next day.
In November 2019, I joined the Long Island CW Club, and volunteered to run some of their classes including a contesting class to prep for Field Day, and a technical assistance class to help our members who own a Morserino with the setup, especially having QSOs over Wi-Fi.
Besides CW I have other radio interests. This past year I finished serving as the president of the University of Michigan club, W8UM, where I completed my MSE in Electrical Engineering. I currently serve as the president of the Ford Amateur Radio League, K8UTT. In the summers I enjoy fox hunts and Field Day with my local clubs. I also enjoy participating in contests like the Michigan QSO Party, November Sweepstakes (SSB & CW), and the North America QSO Party. I have also built a few kits including the QCX, NorCal 40, and El Hispalis designed by EA7JGZ. I also volunteer as a VE for ARRL and have assisted with over 60 online sessions with the Greater Los Angeles Amateur Radio Group (GLAARG). I highly suggest them for all your remote testing needs.
Although I am very passionate about ham radio, I have other passions as well. I volunteer as a radio merit badge instructor for the boy scouts and participate with JOTA events. I earned my Eagle Scout in 2010 and enjoy giving back. This summer I will be volunteering as an adult leader for a trip to Philmont Scout Ranch, a high adventure trip in the mountains of New Mexico. I hope to activate a couple of summits while we are there. I am also an avid sailor. This will be my 5th summer racing with some great friends in Lake Erie. Lastly, I am honored to have been selected as a 2021 Ford Thirty under 30 fellow. Through this philanthropic leadership program championed by Bill Ford, my team and I will be using the principals of design thinking to partner with a local non-profit, SER-Metro Detroit, to help better our community.
I look forward to working many of you on the air. Roll Tide!
This biography is what appeared in Solid Copy when the member joined CWops.