CWops# 2028, from Independence , OH , USA.
---->
View on Google maps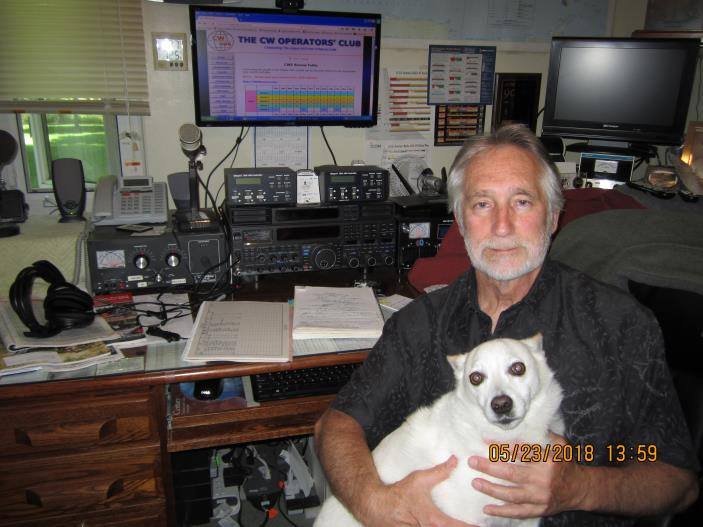 With my parents AM/FM/Shortwave radio in the 60s, as we were listening to Polka on the AM band, I asked my Dad what was I hearing and he told me that it was Morse Code. He said that they were talking. He took me to either Allied Radio or Lafayette Radio and I found a book from ARRL on how to learn the Morse Code. I was 15 years old at Strongsville High School and during my study hall I learned the Morse Code from reading this book. I took my Novice and code test and passed the 5 wpm in March of 1968 and was licensed as WN8ALM. I was allowed to use 75 watts and xtal control on my Drake 2NT xmitter and Gotham V-160 vertical and my first QSO was on 15 meters CW to Nebraska. I then took the General and Advanced and passed the 13 wpm and became WB8ALM. At that time, I was using the J-38 key. All of this in 12 months.
I spent much time with W1AW and my Hammarlund HQ-110 listening at all the code speeds from 5-35 wpm and in 6 months earned my ARRL Certificate of Code Proficiency of 25 wpm while the receiver kept drifting and learned also about QSB, QRM and QRN real fast. Now, I am 16 years old and I want to drive a car, so I took the driver's test and another world opened. I graduated and start working for Ohio Bell Telephone Company. After working for 32 years as a Tester I retired in 2003. I made sure I renewed my radio license over the years. So, after 30 years of making a life and being inactive, I decided in June of 2002 to take the Extra test and then received my vanity call of W8MET. I still knew the Morse Code, so I decided to start buying some equipment. I currently am using the Yaesu Ftdx5000 to a SteppIR 3 element beam and SteppIR vertical and some low-slung dipoles for 160, 80 and 40 meters as spotter antennas with the QRO-2500 and ACOM 1500 amps. I still enjoy going to the mail-box and hoping for QSL's (receiving QSL's makes it a great day). I am also an ARRL Volunteer Examiner. My XYL Linda, N8LRS says Morse Code is difficult for her since she had difficulty in learning and playing any musical instrument and I had music training for 10 years and learning the code came easy for me. I wonder if she is correct in the music theory? Also, we enjoy motorcycling and bicycling. I am always trying to get my weight down to a tenth-of-a-ton (200 lbs.).
I came across the CW OPS contest one day as I was tuning the bands and looked on the internet for more information. Being close to Field Day and thinking this would be a good way for me to be CW ready in June, I entered the Wednesday mini CW events and was nominated by N5PHT and then sponsored by W6SX, K3WW, OK1RR and K1DJ. Thank you for considering me worthy to join the group.
This biography is what appeared in Solid Copy when the member joined CWops.