CWops# 1835, from Capital Federal , Buenos Aires , Argentina.
---->
View on Google maps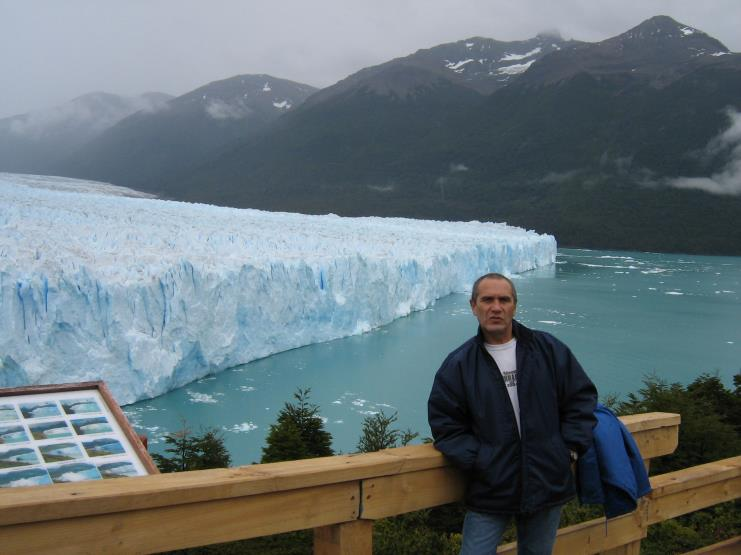 I began in the 60's. Those were AM years, home brew gear, open line feeders and link transmitter output. SSB and Pi output were on the news.
In 1974 built my first SSB transceiver. It was a 40 meters, 250 Watts from a paralleled pair of 6KD6, and Collins 455 mechanical filter.
My first commercial gear was a Kenwood TS520 in 1978. My new toy is an IC-7300. I do CW. Just some SSB now and then when DX chasing.
Served in Air Force 1980 thru 1990. Then I had a 15 years radio break since my job took me out of Argentina and kept me traveling as a Field engineer.
Back home, I settled down in Buenos Aires, but job moved me temporarily to the south of Argentina, on grid FD58.
My station is at a remote location at the south of Patagonia. That's a picture of myself with the Perito Moreno Glacieur 200 miles from that QTH. Have to live with strong winds here, so I raised only a small Yagi for 20-15-10 and 2 diamond loop antennas, name them single element QUAD if you want, for 30-40 on a tower, with ropes pulling the side corners
It was a real pleasure meeting such nice guys at the CW Academy as Jack, NI8N and Bob, K9FS as well as classmates Joe, Michel, Tom, Richard, and Phil.
This biography is what appeared in Solid Copy when the member joined CWops.