CWops# 2341, from Paducah , KY , USA.
---->
View on Google maps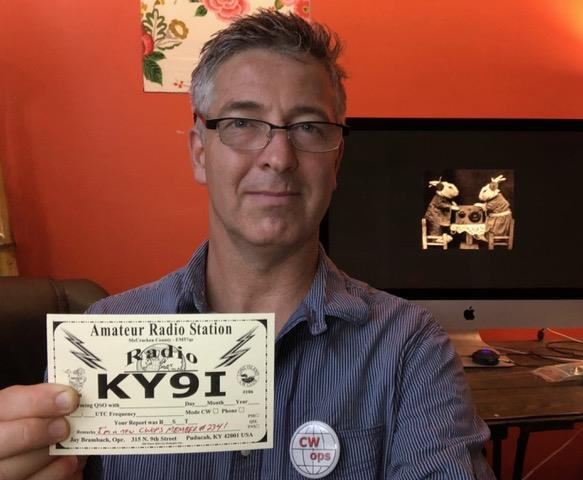 Dit Happens.
Thank you, Gary N5PHT, for my nomination to CWOps and for my first ever CW contact, too. My heartfelt thanks to both the CWA and to the Long Island CW Group which has year-round Zoom meetings which all add up to high levels of CW passion and progress.
I was born in 1968 and until 2016 I did not know that amateur radio existed. Then I walked into a Radio Shack that was going out of business and bought three electronics kits with books for my two young sons on a whim. Turns out that I love learning about electronics! My boys, thus far, just like melting lots of solder! In the Spring of 2016, I studied excessively and passed all 3 exams at once and received the Extra Class license.
I quickly determined that CW would be an asset and began to study with no Elmer(s). At our Club's Field Day, I got a stark reality check on just how hard it would be to become a proficient and effective CW operator! I was unable to make many contacts despite many hours at the rig.
New CWOps member Bob K3PH, recently wrote in his New Member Bio that his friend gave him "exactly two words of very sage advice: 'Get faster.'" That is exactly what I aimed to do. One year later, after:
completing Level 1 & 2 CWA

spending many hours on various PC/ iPhone applications
…I was able to make 120+ CW contacts using a K3 this past Field Day. It was exhilarating! Since then I have been doing CWTs where I have found a wonderful way to spend a few hours each Wednesday using my favorite mode of communication. My latest favorite device is the Morserino-32, an Austrian kit, which (among many other things) I use for internet CW. You can find a link to it on the CWOps website.
It is a great honor to be a member and I have been amazed at just how many things there are available both online and on air from CWOps!
This biography is what appeared in Solid Copy when the member joined CWops.