CWops# 2525, from Genova , Liguria , Italy.
---->
View on Google maps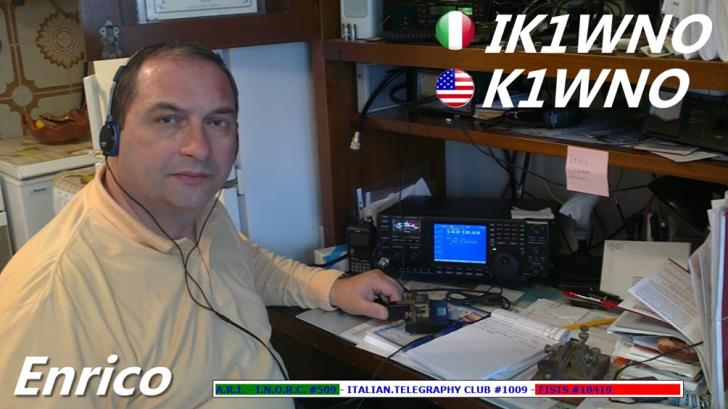 I introduce myself as Enrico Stagnaro with the calls IK1WNO and K1WNO and I live in Italy and precisely in the beautiful city of Genoa. I am married and have a son and two splendid dogs Argo and Ross.
First of all, I wanted to thank those who gave me the opportunity to be part of this wonderful partnership, especially those who sponsored me.
I studied at a college for maritime activities. I worked as a technical engineer for naval systems for important civil and military shipbuilding companies. I am now retired so I can devote more time to the radio.
Ever since I was a little boy, I saw my dad who went out of his way to build instruments and radio equipment, he attended the famous Electra radio course, but he never thought of becoming a radio amateur. One day I started building with the help of my dad my first receiver was about 11 years old. Well, since then it has been an escalation, initially as SWL until in 1993 I took my general license. I immediately fell in love with the A1A transmission.
Since then until today (and I hope for a long time) always active in the air transmitting in CW. I like long QSOs and also contests. when the propagation does not allow me to make long distance connections. I spend the hours with the headphones on my head listening to the frequency for hours and in the meantime, I read some books of ancient Egypt or classical history, waiting for the propagation to open!!
Other hobbies I like diving, fishing, and hunting, shooting and hiking with my wife. I hope to hear you on the radio as soon as possible and best regards to you and all your loved ones
This biography is what appeared in Solid Copy when the member joined CWops.