CWops# 3033, from Guthrie , CA , USA.
---->
View on Google maps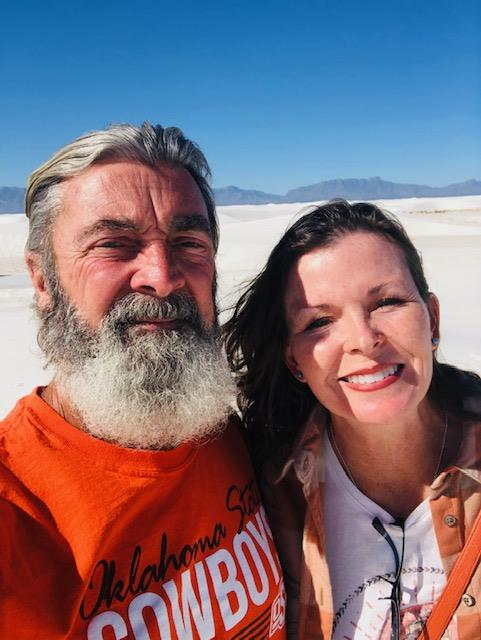 I am from the great State of Oklahoma. After I graduated High School in 1972, I joined the U.S. Navy. I did that because I was really interested in carpentry due to my participation in V.I.C.A. in High School. Well, the Navy didn't care about my desire to be a Seabee and sent me to Boiler Technician school instead.
I was sent to the Pacific Fleet and stationed on the USS Reasoner, DE-1063. From 1972 to 1975 I spent 17 months overseas, which included several months of cruising up and down the coast of Vietnam, most notably during the evacuation of Saigon.
After leaving the Navy I tried college but didn't fit in anymore, so I joined the Stillwater, Oklahoma, Police Department. I enjoyed that but when I met my first State Trooper, I realized they had more freedom to roam than I did so I decided I wanted to try that!
The Highway Patrol sent me to Hollis, Oklahoma, in 1979. Hollis is in the southwest corner of the state and there's not much there. I worked mostly nights and was on call when I wasn't working so I really needed a hobby!
My interest in amateur radio began in 1981. I met my Elmer, Gene Robertson, at a Masonic lodge meeting. Gene was a retired postal worker and lived right around the corner from me. I started learning code and Gene and I would have conversations using light bulbs for an antenna (Gene said his fist was too poor to get on the air).
I received my Novice call, KA5NQU, kept studying, and upgraded to General. That call was N5ESV. For some reason (I really don't remember why) I didn't keep that long. I was issued N5EST.
I worked and worked on my code at nights after getting off from work. One night I decided I was ready. I left late at night and drove to Dallas, took the Advanced and Extra tests, and passed. I was so nervous during the code test that when they sent three test "Vs" I couldn't move my hand! However, I passed! My new call was NE5A! Also, during this time, I decided to join the US Army National Guard, and started learning about Howitzers! When you carry a gun for a living, a bigger gun is even better and an 8" M110 is awesome! In the early 90's life got in the way, and I moved to Central Oklahoma and the radios were all sold.
Fast forward to 2021. I have retired from the Oklahoma Highway Patrol as a First Lieutenant. I have retired from the Army as the CSM of the 1/171Fa MLRS. My wonderful wife, Catherine (Betsy) has also retired from the Oklahoma Highway Patrol as a Lieutenant. She is also a disabled veteran (she was a Drill Sergeant with the 95th Division). Due to the pandemic, we were watching too much television and watched a show called "Jericho." At the beginning of each episode, they had the word "Jericho" on the screen and had Morse code going in the background. I had been away from Morse code so long I couldn't understand it, but I knew they weren't sending the word "Jericho." The bug bit me again and here I am now, allowed to join a group of people who send and receive Morse code so fast it practically sets my ears on fire!
I have multiple hobbies, most notably, motorcycles. If you look at my QRZ page you will see I have a real problem with them. Betsy and I have two children and four grandchildren. Life is fantastic and God is good, always.
Most of all, I must thank Rob, K6RB. I happened upon him one night and he told me about the Academy. I signed up for the Intermediate class and have had a blast! Thank you to Mike, N5KB, for being my instructor and for nominating me for membership. Thank you also to Bud, AA3B, Hank, W6SX, and of course Rob, K6RB, for sponsoring me.
This biography is what appeared in Solid Copy when the member joined CWops.