CWops# 3204, from Salford , Greater Manchester , UK.
---->
View on Google maps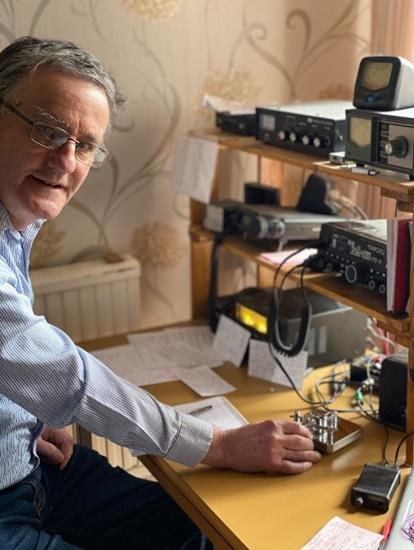 I'm David McArthur, M0WDD and originally from Scotland but now living in North West of England and am delighted to have joined CWops, as a life member.
Special thanks go to my Advanced class advisors Kit G0JPS and Keith G0HKC, and to my classmates Kat KK6CN, Enzo M0KTZ and Alex G7KSE who all made the class so memorable. Special thanks also to my sponsors Kit G0JPS, Tom DF7TV, Peter M0RYB and Adam SQ9S, for encouraging me in my CW learning through emails, rag chew QSOs, and CWT contacts.
Having training in electronics, most of my working career before retiring was in technical training and IT training. My training roles have included training service engineers in diagnostic skills, training young people in Microsoft Certified Programs and training lawyers in using bespoke databases. I've also held IT Training Centre Manager posts.
On the home front, I've two grown up daughters, and two dogs. Sadly, my wife passed away some years ago. My home location is an urban setting in Salford, Greater Manchester, UK, with a small back garden and a tree 6m high handy for antennas.
I've been in ham radio for eight years now and got into CW by chance about three years ago. I noticed a Morse class running in my local radio club one evening and I thought I would try it.
My next step was to enrol on the CWops basic class. That was great fun, but I found that learning CW did not come naturally to me, even though I really enjoyed it. I realised that following an effective learning plan was the key for me, and that different plans suit different people.
My effective learning plan consisted of the CWops Intermediate and Advanced classes. They really helped me progress in CW by focussing my mind on different aspects of CW in a structured learning program. For example after these classes, I was able to hold more decoded characters and then words in my head, and also managed to send code from my head.
CW has now become my main mode of interest, and a bit of an obsession.
My family noted my newfound obsession. A recent birthday surprise was a cake my daughters made for me with "Happy Birthday" spelt out in Morse code in icing. That was a tasty cake.
What other hobbies do I have? Well apart from dog walking, I like photographing landscapes, helping people with computer applications issues, and traveling. So I'm kept busy in my retirement.
Looking to the future, I've signed up to be a CWops Advisor, starting with Beginners, as I want to help other ops get over these first steps in the hobby, where I struggled. I'd also like to research starting a local CW training school, and help other local ops start or build their CW skills.
Maybe I will get another cake. This time I'll wash it down with a small measure of Dalwhinnie whisky.
I look forward to catching you on the bands or on Zoom.
This biography is what appeared in Solid Copy when the member joined CWops.