CWops# 1900, from Westerly , RI , USA.
---->
View on Google maps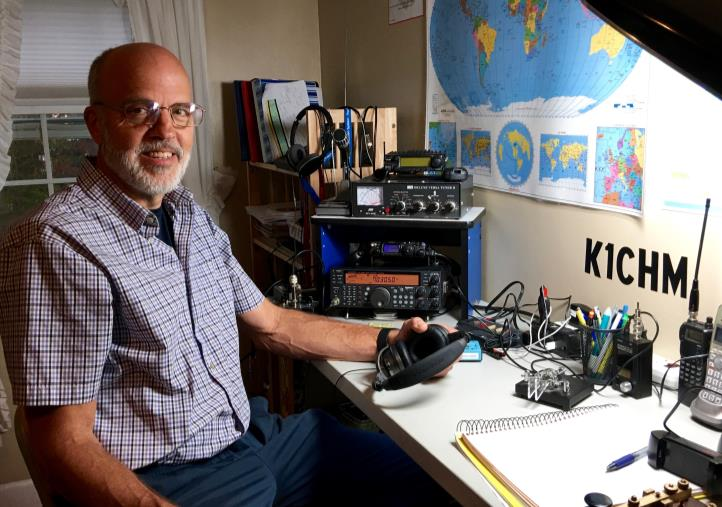 My interest in Morse code began early when my Dad would start speaking Morse code at the dinner table. As a young boy I was curious about what he was saying, so I learned Morse code with a reel-to-reel training tape. I was soon able to communicate with my Dad with verbal Morse code and talk about my sister without her knowing what we were doing! Pretty funny, but then, quite serious, because here I am, a new member of CWops!
When I was first licensed as a Novice in 1983, I made my very first CW contact. It was exhilarating! Why? Because I was in Rhode Island communicating with a high school student in Hawaii as he sat next to his pool! And when he signed off he keyed, "Aloha"! That was it. I was hooked!
As I entered a career as a middle school music teacher, time spent on radio became sporadic. I hoped, all along, that I would be able to spend more time on the radio when I retired.
Well, now I am retired and busier than ever. I'm still an active musician, playing and writing songs, and helping with grandchildren, and still had time to take the Level 2 and Level 3 CW Academy courses. Both classes gave me the tools (and the push!) I needed to improve my CW speed.
I currently volunteer at the New England Wireless & Steam Museum in East Greenwich, RI. I am introducing an audio component to the Wireless Building so that visitors can hear the sounds of the telegraph and Morse code, short anecdotal clips and historical facts that surround the development of wireless radio. It is a very rewarding project.
Outside of radio interests, my wife and I like to camp with our travel trailer, bike ride, and play music in our four-piece folk group. Three great ways to un-wind!
Thank you for the warm welcome to CWops!
This biography is what appeared in Solid Copy when the member joined CWops.