CWops# 3042, from Raleigh , NC , USA.
---->
View on Google maps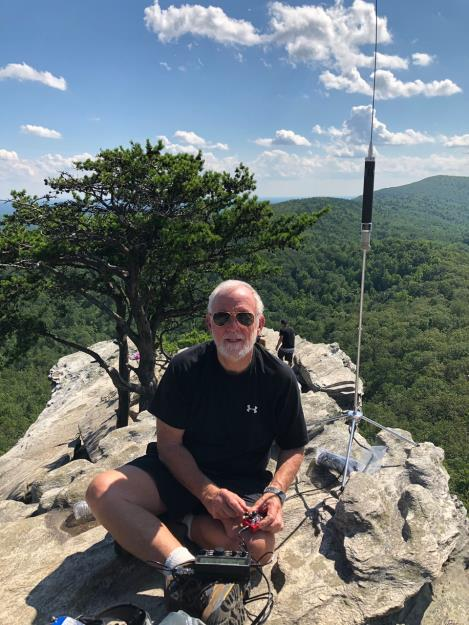 I am honored and humbled to be accepted as a member of CWops. I want to sincerely thank my Advanced advisor Phil W0OJ for nominating me, and sponsors Father Dave ND4K, Bill AG4EA and Tom KE4KY. I also thank previous advisors Jerry AC4BT, Mark K5GQ and Joe N3HEE. Finally, I was extremely fortunate to live near Jack W0UCE (SK), one of the best, who mentored and encouraged me.
CW has always been a passion but has not come easy. So it is with a sense of accomplishment greater than some academic achievements and awards to be in CW Academy. An early interest in ham radio and electronics helped with a career in neuroscience and neuropsychology. I can remember how easy it was in grad school to coach my classmates on calculating voltage drops across cellular membranes after neuronal firing. To me, the human brain is really just a transceiver, but needs fine tuning and better filters.
At 71, I still practice, with evaluation and rehab of neurocognitive disorders, primarily with concussed athletes and commercial pilots. There is no question that CW is good for the brain, increasing neuro-plasticity and neural network communications.
I'm fortunate to have two stations, one in Raleigh North Carolina and the other at Windy Hill Beach, South Carolina, near the ocean. Saltwater is definitely an amplifier, but hurricanes and King Tides are not the best for buried coax and radials for the verticals. Still, any day at the beach is a better day for radio.
In addition to contesting and DXing, I enjoy operating outdoors and feel most comfortable with a KX2 on an exposed rock face. My YL Alanna K4AAC, a pediatric neuropsychologist, is improving her CW. Both "kids" have their licenses but are inactive. With the American Red Cross and Emergency Management, I have been involved with disasters such as Hurricane Katrina.
In addition to work and radio, I still participate in regular cardiovascular exercise to keep the brain in good shape for CW. A dream on my bucket list is CW ops from the Base Camp Hospital on Mt. Everest. Finally, as President-Elect of the Medical Amateur Radio Council, I hope to see all at our booth in Dayton next year.
This biography is what appeared in Solid Copy when the member joined CWops.