CWops# 2903, from North Kingstown , RI , USA.
---->
View on Google maps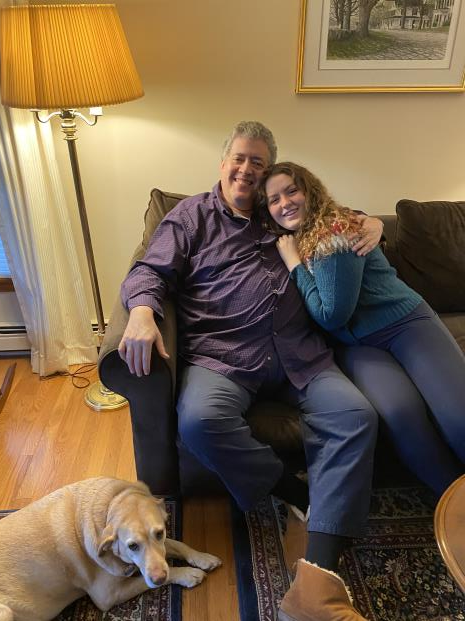 My wife and I have lived in Rhode Island for the past 40+ years, having remained here after retiring from running a small business designing energy saving hardware & software systems for commercial and industrial buildings. We are empty nesters, with our youngest, Sarah (in my photo along with faithful companion, Jaclyn, on the floor), graduating from Northeastern this month.
I have been radio-active for 51 years, having started with my Novice license back in Huntsville Alabama. The hobby stuck with me through high school, college, marriage, working and raising kids, and now into retirement. Code was required way back then, and I did a bunch of traffic handling with Army MARS, so upgrading my license was not as scary as it might have been for the CW adverse.
There are very few parts of the hobby that haven't caught my interest at one point or another. I'm active from 160m to 23cm, all modes, and on satellites (well, I suppose EME is still waiting to try). I credit the Parks on the Air program with getting me outside and keeping me from going stir crazy during the pandemic.
I am eternally grateful to all my teachers (including Joe, KK5NA, my CW Academy Advisor) as well as the hobby itself. I've been giving back for the past decade. Somewhere between 10 and 15% of all licensed hams in Rhode Island have obtained their license after taking one of my license classes (the pandemic has made them wildly popular too; 40 to 60 students not being uncommon). I share my love of Morse code with as many new hams as I can.
In addition to now being a life member of CWops, I am a life member of AMSAT and the ARRL
This biography is what appeared in Solid Copy when the member joined CWops.