CWops# 2900, from Waukesha , WI , USA.
---->
View on Google maps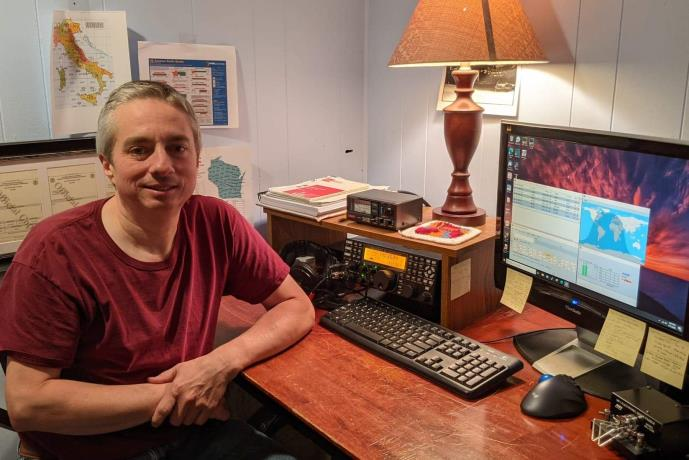 First per tradition I would like to thank Mark K5GQ and Serge KK7RR, my Intermediate and Advanced CWA Instructors, along with Ken KD2KW, Jim WT9U and Mike K5UV for my sponsorship in CWops.
I was introduced to ham radio after a visit to a third cousin and couldn't get over hearing voices from across the ocean! Tinkering with old AM broadcast tube sets led to many visits to the local library, Radio Shack and learning about electronics and science. Somehow I found the local Novice class and became KA3GQR at the age of 12, then learning from hams in the local club I quickly advanced to General and Advanced (in front of the FCC Examiner) before getting my Extra in 1986 when the VEC program first started.
After high school I joined the US Air Force and served stateside before returning home where I started school at Penn State-Beaver for Electronics Technology. I started working part-time for a two-way radio shop and our county as an E911 Dispatcher. Besides HF with modest antennas and no plan I became very active in the local 2 meter, 220 and 440 repeater scene as well as enjoying the Motorola commercial and Public Safety gear I got to work with.
My XYL's sister lived in Wisconsin and after a visit here we fell in love with the Midwest. Given our home area was still in economic decline from the steel mill collapse, we decided to relocate. I was accepted to a local college to work on my Bachelor degree and found work in the cellular retail field which was hot at the time. In 1996 I started at Motorola working in cellular manufacturing, which led to crossing into information technology, which I still do today for a different company.
I discovered the Society of Midwest Contesters after we bought our house and installed some antennas to participate from our small lot. I really like the fellowship and encouragement of SMC and continue to improve my contesting skills. Reading about CWops on the reflector I was curious what it was about and tuning in one Wednesday evening my first reaction was "nope, can't copy anything this fast." Well that didn't last and I signed up for Intermediate class last January and had a blast. I'm currently finishing Advanced class with my CW comfortably at 30 wpm and on for every Wednesday CWT.
This year I'm upgrading to a roof-tower and Yagi to better my signal in the contests. My goal from CWops is to someday be invited to a multi-operator station and to become more comfortable with running.
This biography is what appeared in Solid Copy when the member joined CWops.