CWops# 3411, from Salem , OH , Usa.
---->
View on Google maps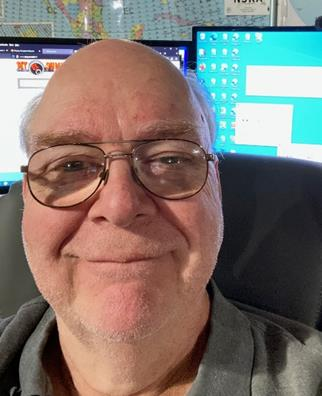 Thanks to N5TJ, K3UA, NA8V, WW3S and IT9VDQ for sponsoring me.
Everything happens for a reason……  My best friend growing up happened to get a AM/FM/Cassette radio for his birthday one year.  Little did his parents know that it would be the catalyst not only for my ham radio addiction but also my career.  I got a call from Ken a couple days later saying "you've got to get over here. I am listening to Radio Kiev."  So I bolted next door and that began my love of radio.  SWLing & AM DXing is where it started for that 14 year old.  It was really cool & fun then and it still is.  You can go to school and learn how this stuff all works but to me, radio is still magic and is as exciting as ever.
I got my Novice ticket in December 1977 (WB3KKX).   The Sharon High School ARC, WB3CSO, was pretty active back in the day and there were several of us that got licensed at the same time.  We all travelled to the Buffalo FCC office to upgrade to General in the summer of 78 and then each summer I went back to upgrade through Extra in 1980.  
I was always interested in DXing and got interested in contesting too.  I changed my call to WR3G in the late 80's, and then finally to N3RA in the mid/late 90's when we were allowed to pick calls again.  I was a very active DXer and contester back in the 70s-90s.  
I went to Penn State and operated from K3CR many times.  Also operated some VHF contests with W3GNR (WIT team) and eventually was part of the K3UA Big Mountain VHF contests in the 80s.  Also thrilled to operate from many other stations including N8IKX, K8CC, KW8N and others.
I spent much of the late 80's through early 00's helping build and operating at K3LR.  What a wonderful experience.  Tim is the most dedicated and gifted ham I have ever met, and he is one of the best op's there is.  We've operated together at his awesome station countless times and also operated 6m together at the W3GNR and K3UA VHF outings too.  I am proud to call him a great friend.  
I was a charter member of the North Coast Contesters and have been a life member of the ARRL since 1980.  Yes… I spent graduation money on a life membership.  As a member of the Mercer County ARC, we were very involved in the disaster recovery efforts after the F5 tornado outbreak of May 1985.  We also had some serious Field Day efforts in the 90s where we won 2A and 3A.  In addition to NCC and CWops, I am a member of NCDXF, INDEXA, and FISTS.
Started out with a Heathkit DX60/HR10B with a dipole.  Moved up to a TS-520S, then to a TS-930 with a tribander and vertical and eventually a IC-765 with monoband Yagi's, wire antennas and verticals.  Currently I am using an IC-7300 and a 160m Carolina Windom that works 160m-6m.  I also have a homemade 6m Moxon that I put up last year.  Looking to add a HF9V and some rotatable HF stuff too soon.
I was less active for many years as we raised 3 great kids.  My two boys have their licenses as well.  KD8NZG is my oldest and my youngest is now KE8WHO.   I lost all of my QSL card in or around 2004 and still can't locate my electronic logs form the 80s – late 90s.   So…. I've started over, for the most part, with DXCC, WAS, etc.   Enjoy chasing all the awards. 
I currently work mostly CW and FT* with some RTTY, and SSB thrown in.  You can find me on the bands most days somewhere.  Also, made my first Satellite Q's a couple years ago.   One of my earliest radio memories was walking up to the attic of W3HV to see him work Oscar 7/8 using his Drake twins. The glowing blue light was so cool.  I always wanted to give the Birds a try and did so recently on AO-91, AO-92 (while available) and SO-50.  One of these days, I'll upgrade my satellite station too.
I am retired from AT&T but currently work at DXEngineering with a great group of dedicated hams.  
Outside of radio, Karen and I like to do stuff outside including travelling, hiking and camping.
This biography is what appeared in Solid Copy when the member joined CWops.