CWops# 3402, from Greenville , TX , USA.
---->
View on Google maps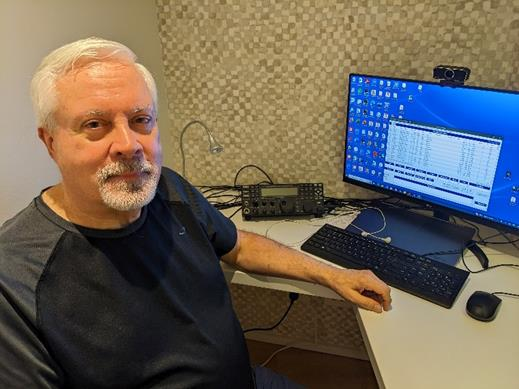 Well, after a ham lifetime of being a CW guy I finally got my act together and joined the CWops family. Better late than never and I am looking forward to the ride.
I was originally licensed in Michigan as WN8VRB in 1967. Passed my General and later Extra at the FCC office in downtown Detroit. After basically flunking out of my freshman year at Michigan State (who knew that going to class was important?) I moved to Newington to work at the League as a DXCC assistant and then contest manager in the early 1970s. WA1PID then. Went back to school at Idaho State and lived in the basement of K7NHV on the top of a 6000-foot mountain. WA7WXY then. Got K7GM at the start of incentive licensing. Graduated with an accounting degree, moved to Arizona, took and passed the CPA exam, and got married all in a 5-day span.
I was very active in contesting and DXing, 90% CW, from about 1971 to 1994 with lots and lots of top 10s in CD Party's (remember those?), SS, CQWW, and ARRL DX, in particular. Then work got in the way and I was inactive for about 15 years other than a few single ops and multiops at N4AF. About 5 years ago, I found Remote Ham Radio and started to spend more time on the radio again. We live in a highly restricted neighborhood and remote is my only option, unfortunately.
Professionally, I have been a CPA for over 40 years and have been very active in volunteer roles at the AICPA including as a Board member and currently the Treasurer of the AICPA Foundation. At the beginning of my career, I worked at Deloitte and at a large private real estate company in Phoenix. In 1990 I chucked it all and got an accounting PhD at Texas A&M which led to my first and only academic posting at East Carolina University, a 28,000-student school in Greenville NC that is part of the UNC System. I started as a faculty member, became dean of the College of Business for about 6 years, and then the Vice Chancellor for Administration and Finance (sort of like a combo CFO plus COO for non-academic operations) for almost 7 years. I retired in August 2022.
In addition to my AICPA volunteer work, I was the ARRL Treasurer for 10 years, stepping down in May 2022.
Retirement is wonderful. Right now my wife and I are in the final weeks of living a full year in Australia. The picture is my K3/0 remote setup in a Bondi Junction apartment with 16th floor stunning views of Sydney and the harbor, bridge, and opera house. By the time you read this, we will have moved over to New Zealand for another 9 months. If you have never been to either country, I can assure you that it is an extraordinary experience. If you decide to go, get in touch for ideas as we have been to both countries 4 or 5 times and have it pretty well scoped out. When here (and when home in Greenville), I use RHR back to stations in New York and Maine.
This biography is what appeared in Solid Copy when the member joined CWops.