CWops# 2989, from Washington , DC , USA.
---->
View on Google maps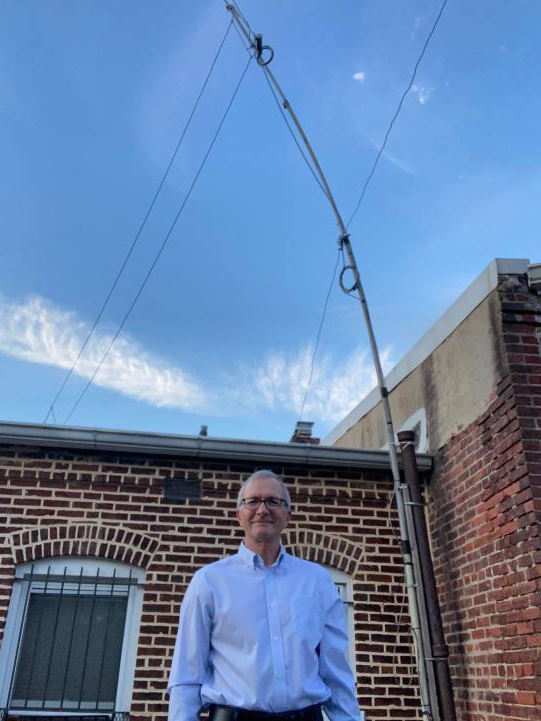 What a thrill to be nominated by Jim N7US and sponsored by WSIL, N3JT, and KG9X. Thank you all, and I hope to return your kindness some day.
Over the years I'd been impressed by the CWops website, Solid Copy newsletter, and hearing CWops members in the CWT and other contests. What a pleasant surprise to be invited to join! I'm now a life member.
I became a ham in 2020, thanks to prompting from Bill KS5Y. Thanks to Doug NA5YO, I became involved with the National Traffic System (CW) and enjoyed the skeds and skills required to keep up with the operators at the various levels of the systems. Soon after joining CWops, it was great to receive a radiogram from our president, Stew GW0ETF!
I live and work in Washington, DC and in Orleans, MA. In DC, my home is a three story row house built in 1890. My photo is of me in my "antenna farm" in DC. It consists of wire antennas generally held up in the center by a fiberglass telescoping pole clamped to a tall pipe coming out of the second floor roof with the base of the pole about 25 feet above ground and the top about 25 feet higher. To reach that part of the roof, I have to climb out a window. The support ropes run to a tall tree in the alley and a chimney in the front. In Massachusetts, I'm on Cape Cod, a mile from the Atlantic, and my antennas are held up by tall cedar, oak and maple trees. I can even hear the ocean from the house — when I'm not wearing headphones.
CW is my preferred mode, and I operate anywhere from QRP up to 100 W. My Elecraft KX2 comes in handy for Parks on the Air and other outdoor activities. My base station is an Icom 7610. Keys are all Begali. Bruna Begali was very helpful in tracking down a Signature I'd ordered and was lost for a while in transit in DC.
More and more my free time is being planned around CW contests. I'm also a member of the Potomac Valley Radio Club, and their activities help keep me motivated to try new contests.
I have five children, two of whom got their Technician licenses as teenagers, and two grandchildren. I look forward to meeting all of you on the air and hopefully someday in person.
This biography is what appeared in Solid Copy when the member joined CWops.