CWops# 2247, from Sultan , WA , USA.
---->
View on Google maps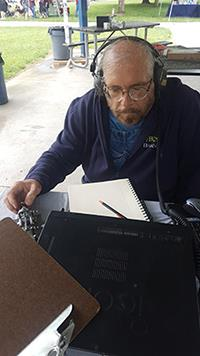 First I wish to thank Bill KE7WTR a member from the local ham club SVARC W7SKY here in western Washington who talked about learning CW and the CWops website. If he had not done that I would not have heard of this CW Academy for learning or refreshing my CW skill.
I was first introduced to ham radio from a classmate's father who was a ham (Grant K2VZX) and was the one to give me the Novice test back in 1968 and was issued my fist call sign WN2FYJ. In those days being a Novice class licensee it was CW only and "rock bound" (Heathkit DX-20 first transmitter) at that. I eventually upgraded to Advanced class and later in life moved to the west coast where I was issued call sign WB6GZW. I attended community college and became a tool and die maker but still wanted to learn more about electronics because of being a ham radio enthusiast. I moved to northern California and went to community college there and took all the electronics courses I could find. In my last year at college I was recruited by a Silicon Valley company to work as a technician on the bench (EIP Microwave) and when the opportunity arose ended up in engineering as an engineering tech.
I eventually tired of the hectic life in Silicon Valley and moved to Everett Washington where I was issued a new call sign KF7PJ. I ended up working for a company in Bellevue WA called Icom America and was a service department technician (every hams dream?) repairing Icom rigs that failed for one reason or another. I was there for 13 years and eventually left to work for Fluke Electronics in Everett for another 7 years before semi retiring, I have my own business now repairing ham radio gear. It was in 1996 I finally upgraded to Extra class license after spending many hours on the air increasing my CW copy speed to pass the CW code requirement. I changed my call sign to W7BCW after passing the Extra test.
I have always loved using CW to make contacts and I try to make at least one QSO everyday depending on band conditions.
This biography is what appeared in Solid Copy when the member joined CWops.